2020 in Book Reviews
All the books I reviewed in 2020, from which I distil 9 faves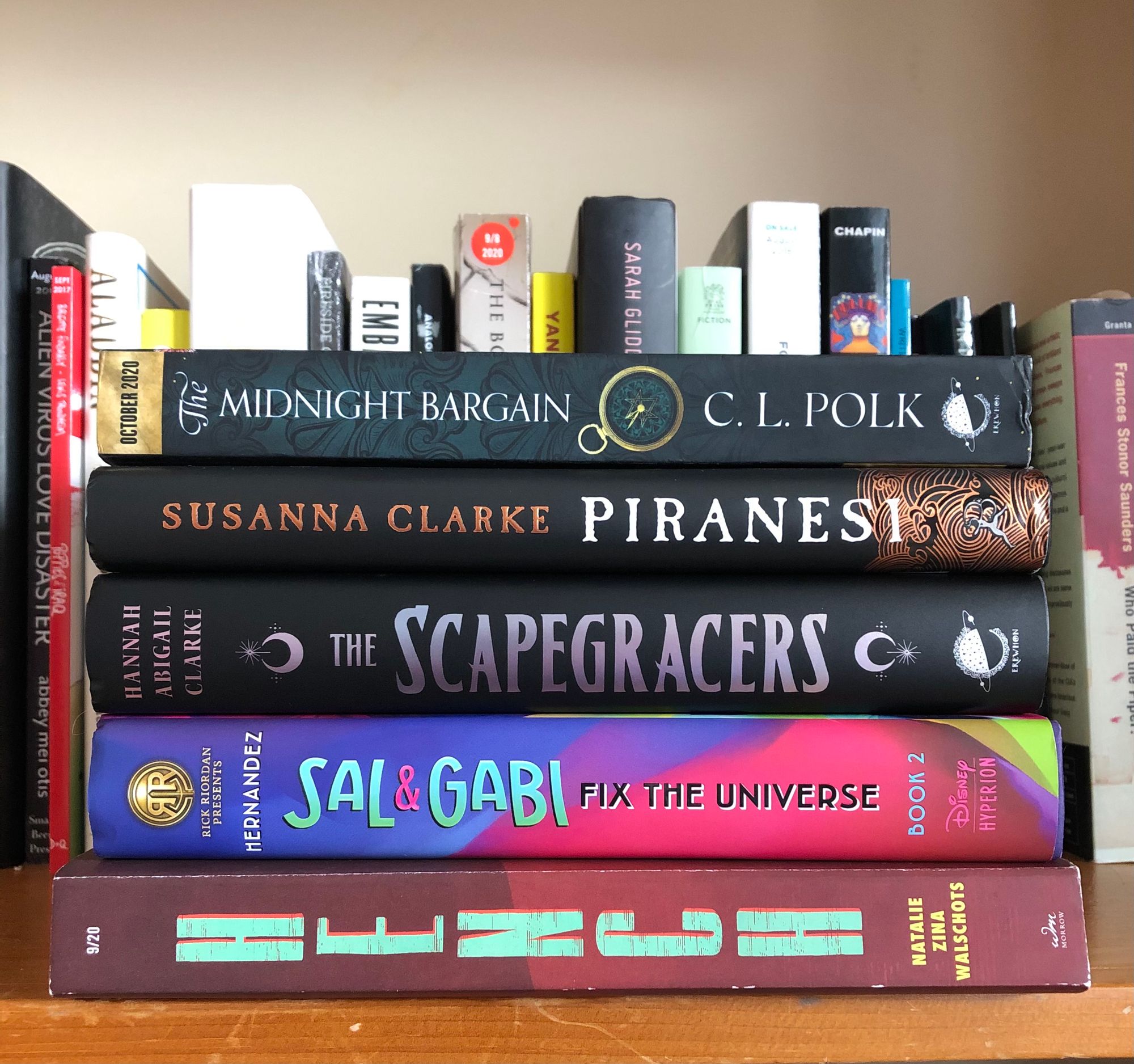 Dear Readers,
Happy New Year! Those words hold so much feeling in and of themselves and rather than delve into them, here is a retrospective post about books.
I reviewed 20 books in 2020. The number, while unintentionally suited to the garbage year, is a meagre one for me, and I won't belabour the whys and wherefores of it. That I read books and wrote reviews and columns at all—when publication dates were being delayed by months, editors were transforming their homes into work spaces, and the postal system was in upheaval, not to mention the constant cognitive toll of the pandemic—is an achievement I stand by. At the end of this newsletter you'll find the complete list of reviews, with links to them.
For now, though, I want to list the books that most stood out for me this year—the ones that brought colour back into my world, that shook my body with laughter or weeping, that had me dog-earing pages and underlining passages and running my fingers over sentences to absorb them through my skin. There are nine of them; two of these I didn't get to review at all, and desperately want to bring to your attention; they'll have fuller reviews by and by.
In the order in which I read them, then:
Shorefall by Robert Jackson Bennett
Book 2 of RJB's "Founders" series, which I adore, which I'd love to see more people reading and engaging with! An excerpt from my NYTBR column:
"Shorefall" is the book I've most thoroughly and uncomplicatedly enjoyed this year so far. It shocked and delighted and upset me from page to page, managing to thread humor and pathos and intrigue together with the speed and precision of a loom. Its comments on our present moment are so deft and sly that when they turn earnest it's deeply affecting: The refrain of "Move thoughtfully … and bring freedom to others" sometimes brought me to tears. "Foundryside" blew me away, and this is a perfect sequel. I'm so excited to see what happens next.

Dance on Saturday by Elwin Cotman
This is the book that forced my editor to spend an afternoon googling synonyms for testicles in a sadly futile attempt at preserving one of my observations about it in the newspaper of record. (You can read more details about the most incredible editorial exchange of my career thus far in this subscribers-only post.) Here's what I wrote about my favourite story in the collection, which I very much hope will make its way to awards lists.
In "Seven Watsons" — far and away my favorite story — a young man called Flexo speaks compassionately of life in the scrutinized confinement of the Pittsburgh Job Corps, and of how the arrival of seven strange brothers transformed his life there. There came a point in the story, a hinge, where I suddenly felt the way I did the first time I heard jazz harp, or quarter tones from an Arabic maqam played on violin: hearing new music on old instruments and vice versa, experiencing transposition as transformation. I still get goose bumps recalling it.

The Space Between Worlds by Micaiah Johnson
I credit this book with reactivating my reading brain this year. I went off about it on Twitter in addition to reviewing it in the same column as Cotman's book.
As a metaphor for neoliberal imperialism, this tale is profoundly satisfying; as a work of art, it's even better. Cara is so mesmerizing a character that I was helpless before every twist and turn of plot, riveted by her pain, love and secrets. The book remained two steps ahead of my imagination, rattling it out of complacency and flooding it with color and heat.

Where Things Touch: A Meditation on Beauty by Bahar Orang
I'm so grateful to the organizers of Word on the Street in Toronto for making their wonderful festival virtual this year and consequently introducing me to Bahar Orang's gorgeous work. I was given this to read in anticipation of interviewing her, and it dazzled and moved me; I was especially grateful to get to chat with her about it afterwards.
This is not a collection so much as a lyric essay, poetry as conversation, as correspondence, as exploration, intimate as hands brushing while passing a note between them. Bahar Orang's musing on the nature, parameters and accessibility of beauty is precise as a scalpel and diffuse as a bouquet, thoughtful and intense, thoroughly embodied and restlessly questing. I scribbled in the margins of almost every page; once I finished it, I put it in a care package and posted it to dear friends.

Hench by Natalie Zina Walschots
This is one of the ones I didn't get to review, but it literally made me yell with laughter and gasp with horror and outright weep. I also railed about it on Twitter without getting to name it (while I thought I would get to review it). Review is forthcoming within the bounds of this newsletter and then maybe I'll be able to stop losing the power of speech whenever I try to talk about how much I loved it.

The Midnight Bargain by C. L. Polk
This was such a warm joy to read, walking a slender, dazzling line between the pleasures of inhabiting genre tropes and the pleasures of departing from them.
I love novels of magical manners, stories that contrast the rigid specificities of humdrum moneyed lives with the numinous wilderland of magic. Polk's contribution to the genre is smooth and confident, with prose that reads like running a hand over velvet. She uses historical fantasy not to simply dismiss outdated mores on sexuality and desire but to engage with the contemporary issues of birth control and parental leave, which remain frustratingly controversial in much of the world. A sleek, beautiful book with a quietly serious heart.
This book is magnificent. When I think back on the experience of reading it everything is in warm gold and white feathers with sharp undercurrents of blackthorn and mirror shard and papercuts.
I found myself pulled along as much by Piranesi's voice — sweet, earnest, passionate — as by a desire to puzzle out what genre I was in. Was this a play on C. S. Lewis's city of Charn, or a postapocalyptic novel set in the remains of the London Underground? Was Piranesi in a generation ship? Was he really in a fantasy land, and if so, what was its relationship to our own world of trees (which he is not certain exist) and of suits in Prince of Wales check (which he is able to distinguish)? The mystery unspools through Piranesi's labyrinth and journals, and its resolution flooded me, as the tides flood the halls, with a scouring grief, leaving gleaming gifts in its wake.

The Scapegracers by Hannah Abigail Clarke
Ugh I loved this so much, and in addition to the following please know that the book as a physical object is extremely beautiful and perfectly suited to its contents; unlike most of the books I cover, I got to read this in finished hardcover glory instead of an ARC.
A fierce and magnificent debut, raw and wet as bloody scratches from manicured nails. Taking cues from the 1996 film "The Craft," and full of the kind of furious love for teenage girlhood that Rory Power bares in her novel "Wilder Girls," Clarke tells a violently beautiful story of the magic girls make together, whom it threatens and whom it attracts… I loved everything about this book, from the hot, suturing needle of Clarke's prose to the broken-glass grind of Sideways's voice. Clarke's girls are glittering and terrifying, in love with one another and in opposition to the world that disdains and desires them.

Sal and Gabi Fix the Universe by Carlos Hernandez
I didn't get to review this because Carlos is a friend too dear for the perception of platformed objectivity, but dear gods, I loved it. A sequel to the Pura Belpré Award-winning Sal and Gabi Break the Universe, it is somehow even better—more thoughtful, more accomplished, more moving. A talking toilet made me cry. I read this in 20-minute-before-bedtime sips over the course of a couple of weeks and it was just such a wonderful indulgence, so warm and so healing.
More soon!
---
NPR reviews:
Finna by Nino Cipri (February 29)
Elatsoe by Darcie Little Badger (September 5)
Where Things Touch: A Meditation on Beauty by Bahar Orang (2020 Concierge, December)
NYTBR reviews:
The City We Became by N.K. Jemisin (March 24)
Otherworldly columns:
Lady Hotspur by Tessa Gratton
Riot Baby by Tochi Onyebuchi
Docile by K.M. Szpara
Network Effect by Martha Wells
Otaku by Chris Kluwe
Shorefall by Robert Jackson Bennett
Dance on Saturday by Elwin Cotman
The Space Between Worlds by Micaiah Johnson
The Midnight Bargain by C.L. Polk
The Invisible Life of Addie Larue by V.E. Schwab
Piranesi by Susannah Clarke
Attack Surface by Cory Doctorow
Burning Roses by S.L. Huang
These Violent Delights by Chloe Gong
The Scapegracers by Hannah Abigail Clarke
Harrow the Ninth by Tamsyn Muir