Last Chance to Vote in the Goodreads Choice Awards!
Plus lists and podcasts!
Dear friends,
It's December! My birthday month, the month in which we eventually stop leaking daylight and begin, just barely, climbing our way out of the dark. I can't believe the year's almost done, for all that I've been maintaining this steady-state disbelief since roughly September. I hope you all get a chance to rest, huddle in with loved ones, read delightful books and eat delicious food.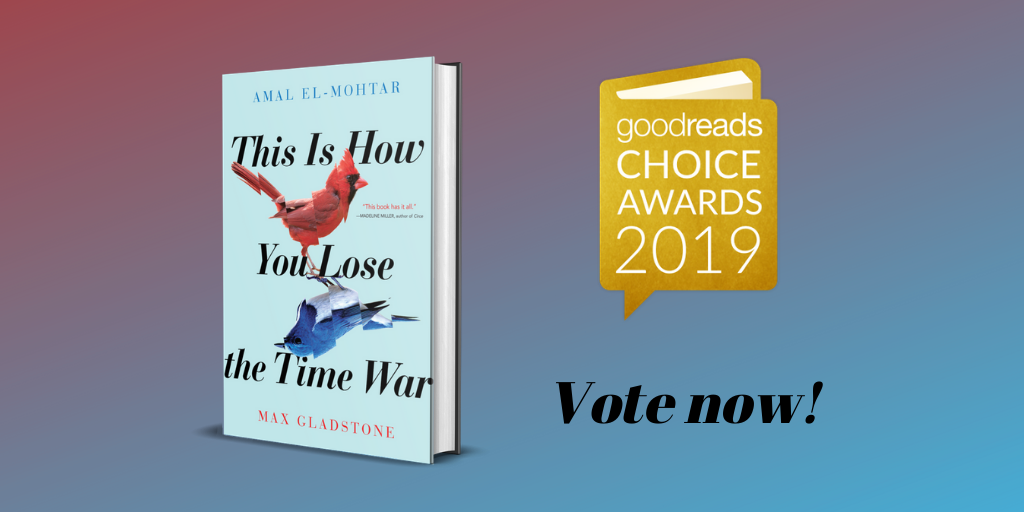 First order of business: today is the last day to vote in the Goodreads Choice Awards! As I've mentioned before, This Is How You Lose the Time War is a finalist. I hope you'll vote for your top picks in a wealth of categories! And huge, huge thanks to those of you who've already voted, discussed, rated, reviewed, even just indicated your interest in books — whatever the outcome of a process like this, it's a really big boon to authors to have their works highlighted and seen in so vast a community as Goodreads.
In related news, This Is How You Lose the Time War made it on to several best-of-the-year lists, including Amazon's Book Review and The Guardian's! I'm deeply grateful to Adrian Liang and Adam Roberts for their respective curations. Seeing our book on lists with some of the novels I've most enjoyed this year continues to be several trips.
Next! A friend pointed me towards this great podcast called The Incomparable and recently four really excellent humans were on it discussing This Is How You Lose the Time War in a way that honestly dazzled me. You can listen to it here. I especially love the episode title.
In other podcasty news, my friend Al Kennedy has launched a new podcast called Desert Island Discworld, and it's a delight! Each week he has a guest on to discuss which Discworld book they'd take to a desert island with them. Last week he had Kieron Gillen on to talk about Small Gods, in a really beautiful conversation that touched on games and music journalism, class, fantasy world-building and the deep humanity of Pratchett's work. This week you can listen to me talking about Equal Rites, childhood reading obsessions, Time War and more! It was a really fun conversation and Al's a wonderful host.
Finally — thank you so much to everyone who took part in last week's Friday Open Thread! I loved reading your replies, and am definitely going to do this sort of thing weekly. Stay tuned!
All best,
Amal