This Is How You Dress the Time War: Notes on a Capelet
Dear Friends,
I want to take a moment to talk about this magnificent garment Miri Baker made for me to wear to the Hugos.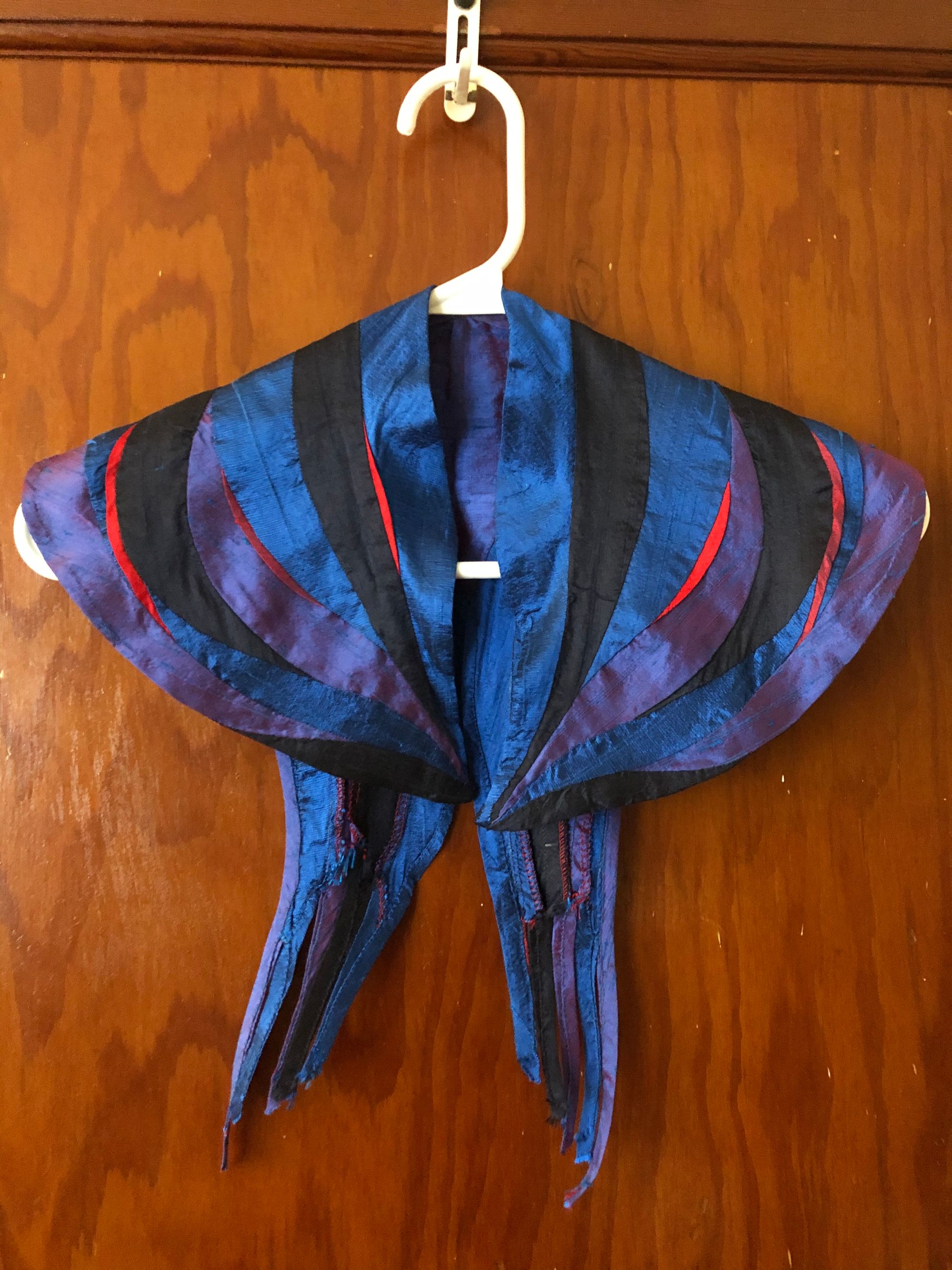 I had the good fortune to meet Miri at the Writing Excuses Cruise in 2018, when I was a guest instructor. Besides being a brilliant writer whose work I was delighted to read, she's a phenomenal costume designer, and we bonded over (among other things) a shared love of Steven Universe and began talking cosplay ideas while sitting on the floor of a fancy bar. When Miri read This Is How You Lose the Time War, she said she'd love to work on an outfit inspired by it; we began brainstorming in earnest when the Hugo nominations came out, with the understanding that the outfit would have to be different than initially envisioned to suit a virtual convention and the fact that we couldn't travel to each other for fittings.
I'll let Miri take over from here!
---
Says Miri:
I come from a cosplay background, so the interpretations I'm used to doing are very literal—pulling a flat image into three dimensions, or piecing together textual description. This design quickly turned from "what's something that Blue might wear?" to "how would I express TIME WAR in a garment?", which is absurd on its face. The current world situation made it even more of a challenge: since I can't travel for dress fittings and it'll only be seen from the bust up, how can I create it on a small scale?

I knew I wanted to take the motif of the Braid, a ready-made textile metaphor, and show the strands moving and twisting among each other. This garment is still in Blue's point of view, so blue as a primary color, with pops of red peeking through—but Blue changing, shifting. SilkBaron.com has some amazing two-tone dupioni fabrics, that look like a first color in one light but shift into a second; the purplish color in the photos (my lighting washes it out a bit) is a cross-weave of the brightest blue and the brightest red in the capelet, and one of the colors of red is those same colors in reverse.

I was also thinking about the novella when planning how the design would be constructed. I knew I wanted something complex to look at, but it didn't feel right to make a base garment and then decorate it; rather, the construction itself is the ornamentation, with pops of red and beautiful curves and twists woven into the very seams (most of which are done by hand because curves are hard). Related, I wanted the closure to be something clean and invisible; the beauty of a book like TIME WAR is that you can't see the functional pieces, even when you're looking for them. Magnets were the obvious, thematically appropriate answer; two magnetic strips are hidden in the front facings, with separate magnets to pop under whatever's worn under it.

Finally, what's TIME WAR without bird imagery? The capelet swoops like a pair of folded wings, and I couldn't resist dangling a bird charm from the back center.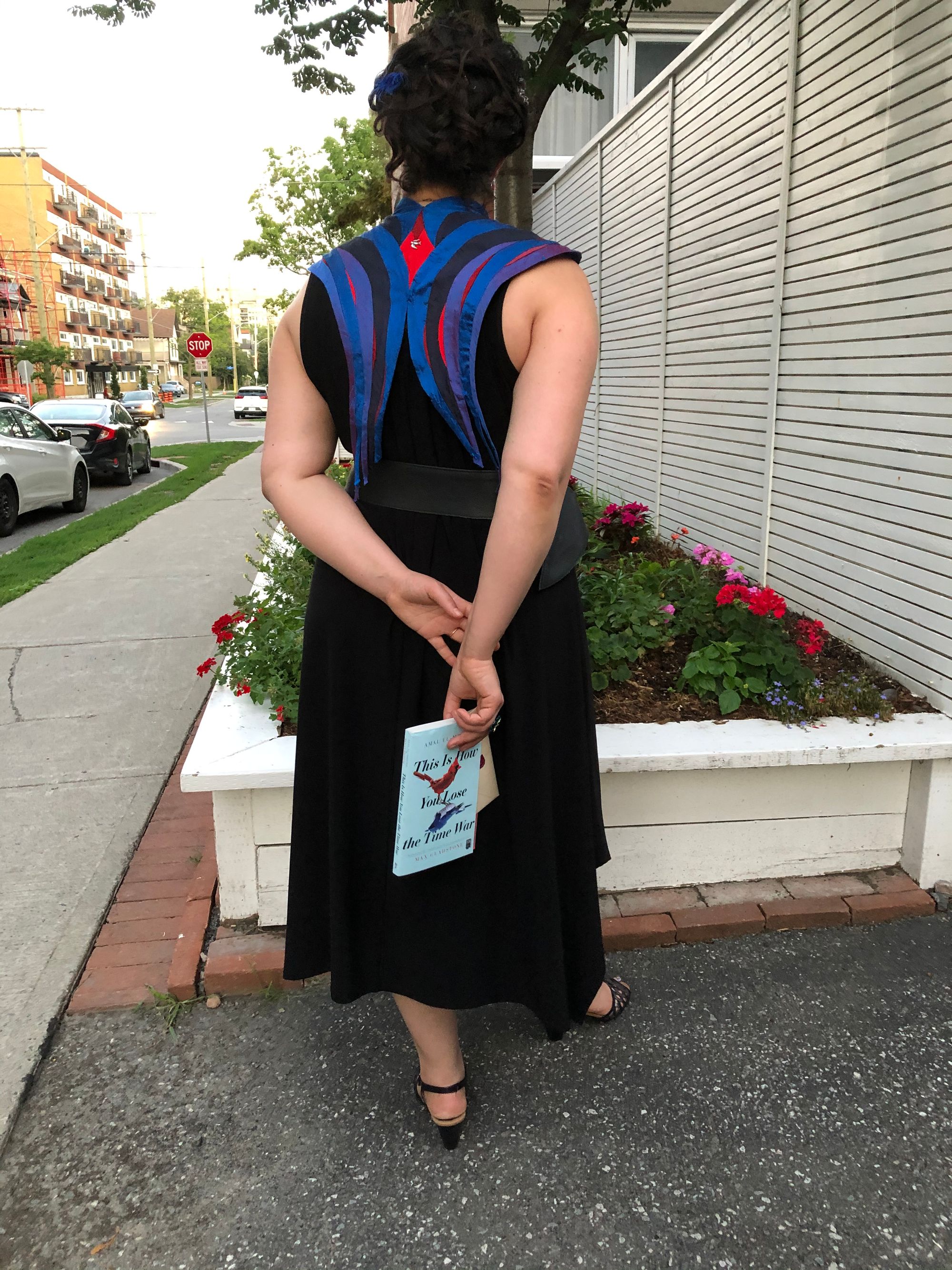 I'm profoundly grateful to Miri for her thoughtfulness and generosity with her skill, the incredible care and attention she brought to crafting both this beautiful garment and her process! I'll be seeking excuses to wear it for some time — or may just randomly slip it over my shoulders whenever I want to feel fancy over Zoom.
You can find Miri on instagram here, on Twitter here and her website here.
Other Hugo outfit items: I realized that to balance the capelet's effect I'd need to style it very simply, so with the help of my sister Dounya (in person), my friend Jenn (over vidchat), and the fantastic staff at Workshop Boutique (all masked together in summer weather), we found this lovely simple *extremely comfortable* black dress by Compli K and paired it with a wide belt for some, as Jenn put it, "medieval punk vibes" to support the structured extravagance of capelet paired with Elise Matthesen's "Blue in Motion" necklace and "The Rustle of Their Wings" crown (neither of which was directly inspired by Time War, both of which were unutterably perfect for it). The earrings are by Ashley Deng; the shoes I found hiding in a box under the bed, having been my backup wedding shoes (from 5 years ago!), waiting all this time to be part of a different special event.
Then Stu and I caught the last of the light to take some photos.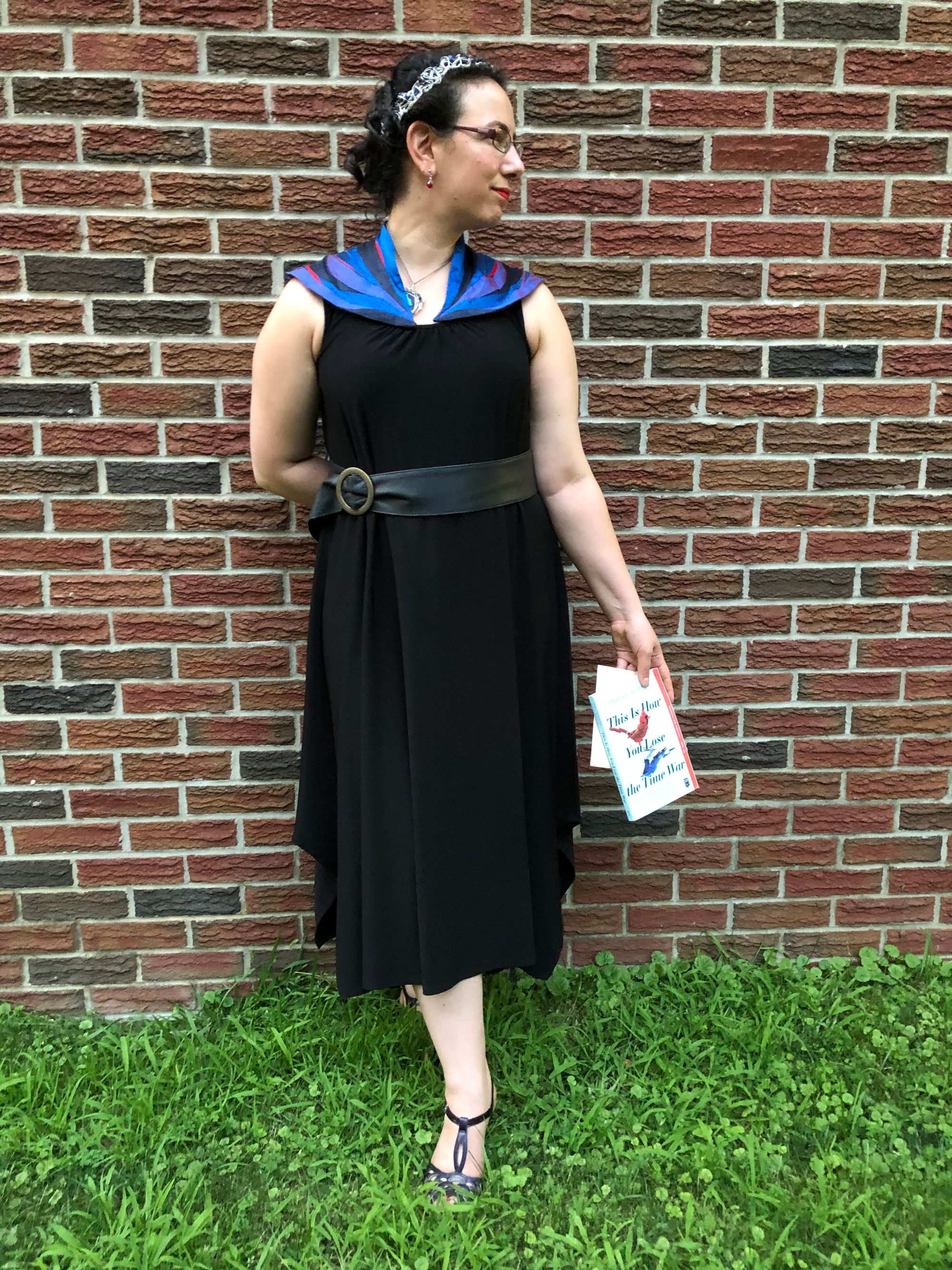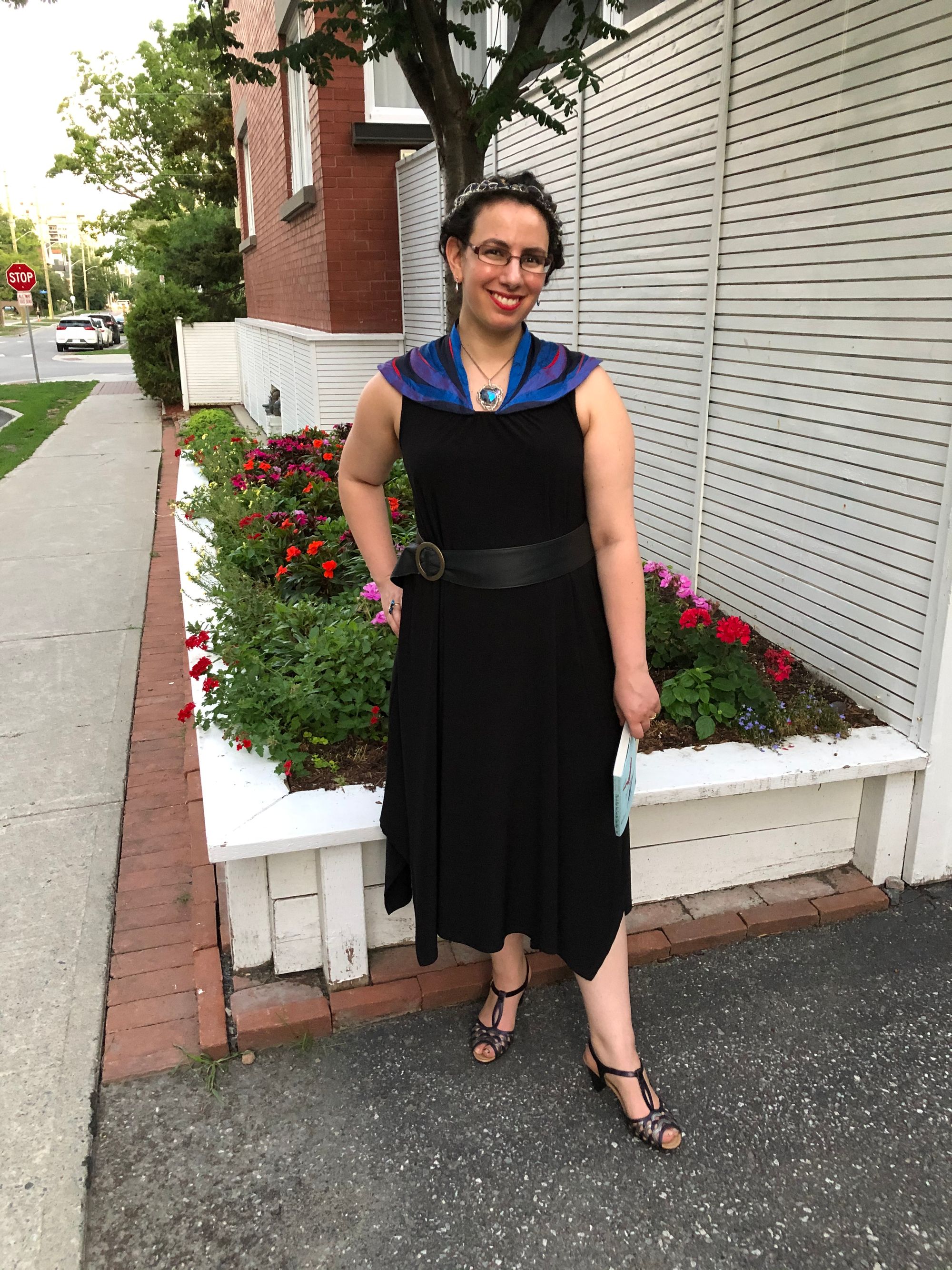 That's all for now! Friday Open Thread to follow.
Best,
Amal