Two Kickstarters: Alphabet of Embers & UNCANNY
I'm involved in the following two projects being funded through Kickstarter, and very excited about them both.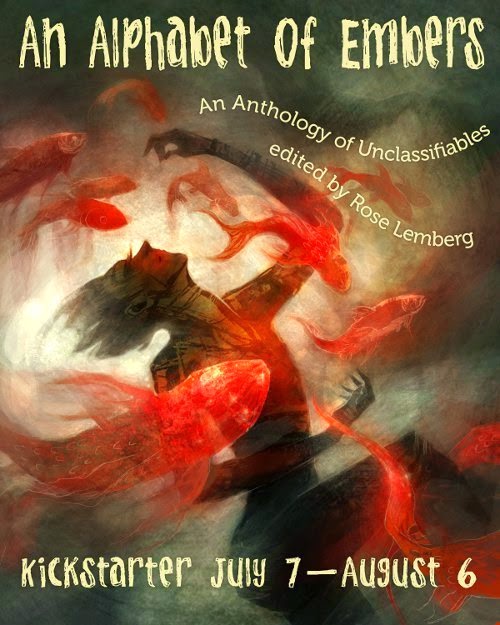 Launched by Rose Lemberg, a brilliant editor and writer whom I love and admire, An Alphabet of Embers is "an anthology of unclassifiables –- lyrical, surreal, magical, experimental pieces that straddle the border between poetry and prose." Sofia Samatar has an impassioned post about it here.
With seven days to go the project is already funded and has reached two of its three stretch goals: black and white interior illustrations, and commissioning a song by the Banjo Apocalypse Crinoline Troubadours (of whom I am a third). Caitlyn Paxson, CSE Cooney and I began discussing the commission several weeks ago, when it was not yet a sure thing; I'm very glad it now is, because I think it's going to be very special, something we've not yet done before, and something to level us up in our odd mélange of craft.
It's also bursting with nifty incentives: Bogi Takács is sending out postcards with Ember Letters on them to people who back at $25 or more, Rose is periodically drawing whimsical creatures (OMG Sturgeon of Doubt!), and Kythryne Aisling of Wyrding Studios is offering Kickstarter-exclusive Firebird pendants as well as making jewellery themed around Ballads from a Distant Star, the not-so-secret Banjo Apocalypse Crinoline Troubadour project from which much of our show material comes.
If the project reaches $8K, the amazing Saira Ali of Kitabiyat Press will, on her 19th century letterpress, produce broadsides of a single story from AoE for all backers who pledged at the $45 level or higher. BUT WAIT THERE'S MORE! The famously mermaid-poem-averse Rose Lemberg will, with co-editor Shweta Narayan, edit a joke-issue of Stone Telling composed entirely of rhymed mermaid poetry.
Naturally, I intend to submit something.
Next!
Launched by Lynne and Michael Damien Thomas, Uncanny will be "A Professional Magazine of Science Fiction and Fantasy Literature," where each bi-monthly issue "will contain new and classic speculative fiction, fiction podcasts, poetry, essays, art, and interviews." I'm committed to contributing fiction to its first year — as are such brilliant people as Sofia Samatar, Charlie Jane Anders, Liz Argall, Rachel Swirsky, Maria Dahvana Headley, Mary Robinette Kowal, Scott Lynch, Catherynne M. Valente, Paul Cornell, Ken Liu, Kat Howard, Hao Jingfang, E. Lily Yu, and some beardy unknown called Neil Gaiman.
Besides how diverse the first year looks to be, I'm delighted to see how many women are involved in the magazine's structure and management, and am genuinely looking forward to writing for them. I can also vouch with absolute certainty for Lynne and Michael's vision, skill, and kindness as editors, having been edited by them for Glitter & Mayhem and Queers Dig Time Lords.
So! Two Kickstarters, both alike in awesomeness, worthy of your attention and lucre. Go to!
#SFWApro