Friday Open Thread (with Travel & Cities)
Dear Friends,
I purchased this book weeks ago, after being excited about it for further months, and was delighted to receive it today: Kathleen Jennings' Travelogues: Vignettes from Trains in Motion.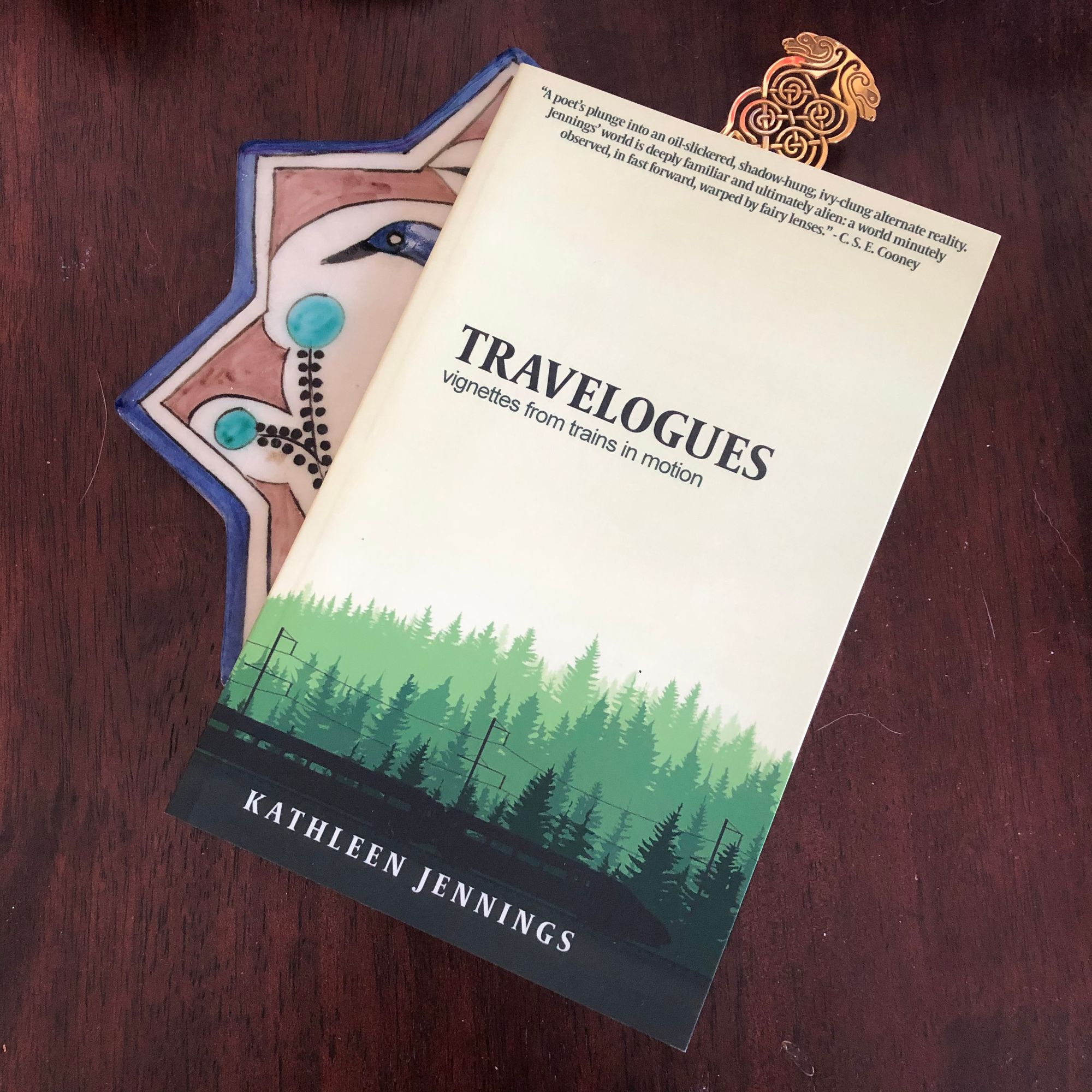 I remember first encountering threads of Jennings' train observations on Twitter, each one compact and warm as a palmed coin. But I don't remember when I encountered them; an attempt at locating my first reply to such threads led me to finding some tweets from 2019, but I feel certain I've been haunted by the insight and perfection of her vignettes for much longer than that. At any rate, I'm overjoyed to be able to hold them in my hand.
I was surprised by how struck-through I felt reading the Table of Contents, though. There she actually names the journeys in question, citing train stations and routes that became very familiar to me while I lived in the southwest of England between 2008-2012. I had, I think, imagined that Jennings' train journeys were all one, a single train slipping from landscape to landscape like thread through a necklace. To see the specificity was a kind of warning to guard my heart against the journey the book would take me on, through places and memories softened and sharpened by time and distance.
I'm no less excited to read it; probably only more so.
Travel and cities are much on my mind, for all the obvious reasons as well as perhaps less obvious ones. My husband is reading The Power Broker right now, and periodically shares out portions of stunningly beautiful writing about glaciers carving up the landscape that would become Long Island (in a book ostensibly about Robert Moses; one begins to understand why it's 1246 pages long). And on Wednesday evening next week, I'll be in conversation with Annalee Newitz about their most recent book, Four Lost Cities: A Secret History of the Urban Age, under the auspices of the New York Public Library. It's a free event open to the public; you just have to register for it in advance.
In the meantime, I'd love it if you could tell me about particularly memorable travel you've done between cities. I've been reflecting on the journey from Glasgow to Cornwall and back by car with Stu, and the small farewell tour of Cornwall and Devon that entailed; the ferry between Woods Hole and Martha's Vineyard, and the winding car journeys preceding it, from Ottawa through Boston; the train journey from Glasgow to Inverness and back. I'd love to know of your own journeys — the restaurants you stopped at, the landscapes you saw, the music you listened to.
Wishing you an easing and restful weekend,
Amal