Letter of News: Awards, Interviews, Pre-orders!
and more!
Dear Readers,
What strange times we live in. I'm writing from Glasgow, where I very suddenly find myself  — despite/because of the global pandemic — for reasons I won't get into presently (but will later). Suffice it to say that I've now had the experience of boarding a flight within five hours of booking it, which certainly is a thing.
I'm sure many of you are watching, as I am, the ways in which the fabric of our society is variously twisting, stretching, fraying in response to COVID-19. I've been observing with friends how enormous and unsettled everything feels, but also recognizing the strange new texture that online togetherness has achieved: I feel it as an electric thrum in my chest, a constant nearness to tears that prick more out of love than fear, this huge, unbearable love that comes from the dissolution of so many things. Plans, movement, the shapes of working and meeting and greeting, the dominant structures of capital — something in their collapse, in the blurring of their certainties, is swelling my heart in ways I have difficulty compassing, let alone expressing. I am not GLAD for any of it, let me be clear — I am not less afraid. But I am grateful, so constantly and overwhelmingly, for this feeling of amongness, of seeing each other nearer and clearer because/despite, of reaching out and feeling held.
Sarah Gailey said it better here, but I've been thinking it for weeks.
That said — here's a gathering up of other news, perhaps cheerful in its mundanity. I hope it's an escape from media pressure to read it instead of a strange, aberrant note amid very serious concerns.
THIS IS HOW YOU LOSE THE TIME WAR IN PAPERBACK MARCH 17
Did you buy the audiobook or ebook of Time War and enjoy it enough to want a tangible copy for your shelf? Do you find yourself wanting to gift multiple copies to friends but reluctant to shell out for hardcovers? Have you just been waiting for a softer spine to fit against your palm before purchasing?
Well! The (North American) paperback — with an extremely sexy step-back cover featuring the incredible Ken Liu declaring it "seditious and seductive" — is now available for pre-order!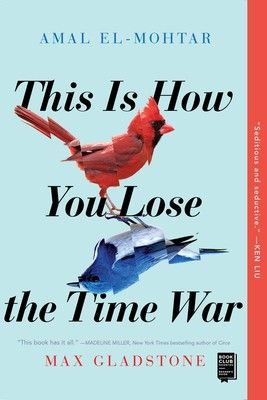 In addition to that racy red step-back, the paperback edition contains a book club discussion guide at the end, for extra yelling-with-friends fun.
Pre-orders are love and joy to authors, and help us out more than probably any other single thing you can do as a consumer. They signal to bookstores that this is a title they should carry, keep in stock, maybe get their staff to read in order to hand-sell — which in turn tells the publisher how many copies to print, etc. Pre-order from your beloved local independent or anywhere else books are sold! Here's a smattering of places for your convenience:
Barnes & Noble
Indiebound
Amazon.com
Amazon.ca
Books-A-Million
Chapters Indigo
AWARDS: HUGO NOMINATING, NEBULA VOTING, ALSO KITSCHIES?!
First and foremost: Hugo nominations close tonight, March 13, at 11:59 Pacific Time. If you were a member of Dublin Worldcon or are a member of ConZealand, you are eligible to nominate your favourite works from 2019! Please don't be deterred by thoughts like "I only read a handful of books" etc — your Hugo nominations are not homework you're turning in for marks, and you're not a juror. The Hugo Awards are a snapshot of what our international community's been reading and loving and recommending. Think of your ballot as a letter you're writing to a friend to tell them about the things you loved or admired most from the past year, with some arbitrary wordcount / timestamp / etc. limitations added in for fun.
Thus far This Is How You Lose the Time War has been shortlisted for the LA Times Book Prize, the BSFA Awards, the Nebula Awards, and, most recently, the Kitschies! Max and I have been delighted and honoured by every one, starry-eyed by the company our small book is keeping, and our gratitude towards readers and booksellers keeps pushing our hearts into new sizes and shapes. Mine's presently an elliptic pulsar.
VECTOR MAGAZINE INTERVIEW
Powder Scofield — an old friend of Max and mine who, astonishingly, knew both of us in different contexts before we knew each other — interviewed us for Vector magazine, and the result is a long and beautiful conversation that I've really enjoyed revisiting.
Max and I have done, at this point, probably at least a dozen interviews about Time War, but there's a real difference between a set of emailed questions and a voice-to-voice conversation — this was a Skype call with Powder, transcribed and edited by excellent people, and, like our Locus interview, the result is full of the kinds of insights and surprises that come from sparking off each other in real time.
CATALAN EDITION OF THIS IS HOW YOU LOSE THE TIME WAR
It's out! It's so beautiful! Translated by Lluís Delgado and Rosa Borràs, with a cover by Marina Vidal and Miquel Muerto!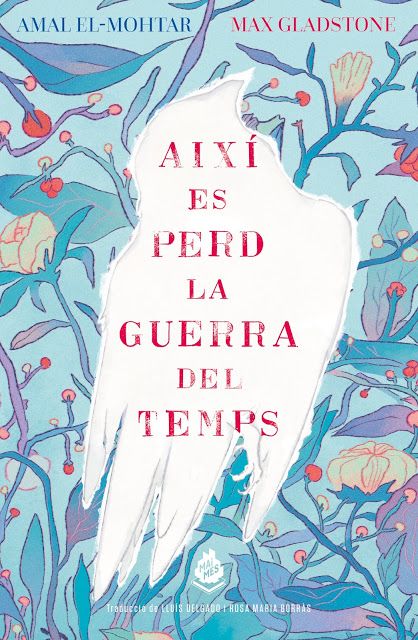 But also, look at this stunning promotional art by Marina Vidal, with prints available in a limited numbered edition of 100! You may want to communicate with Mai Més on Twitter to see how to obtain them.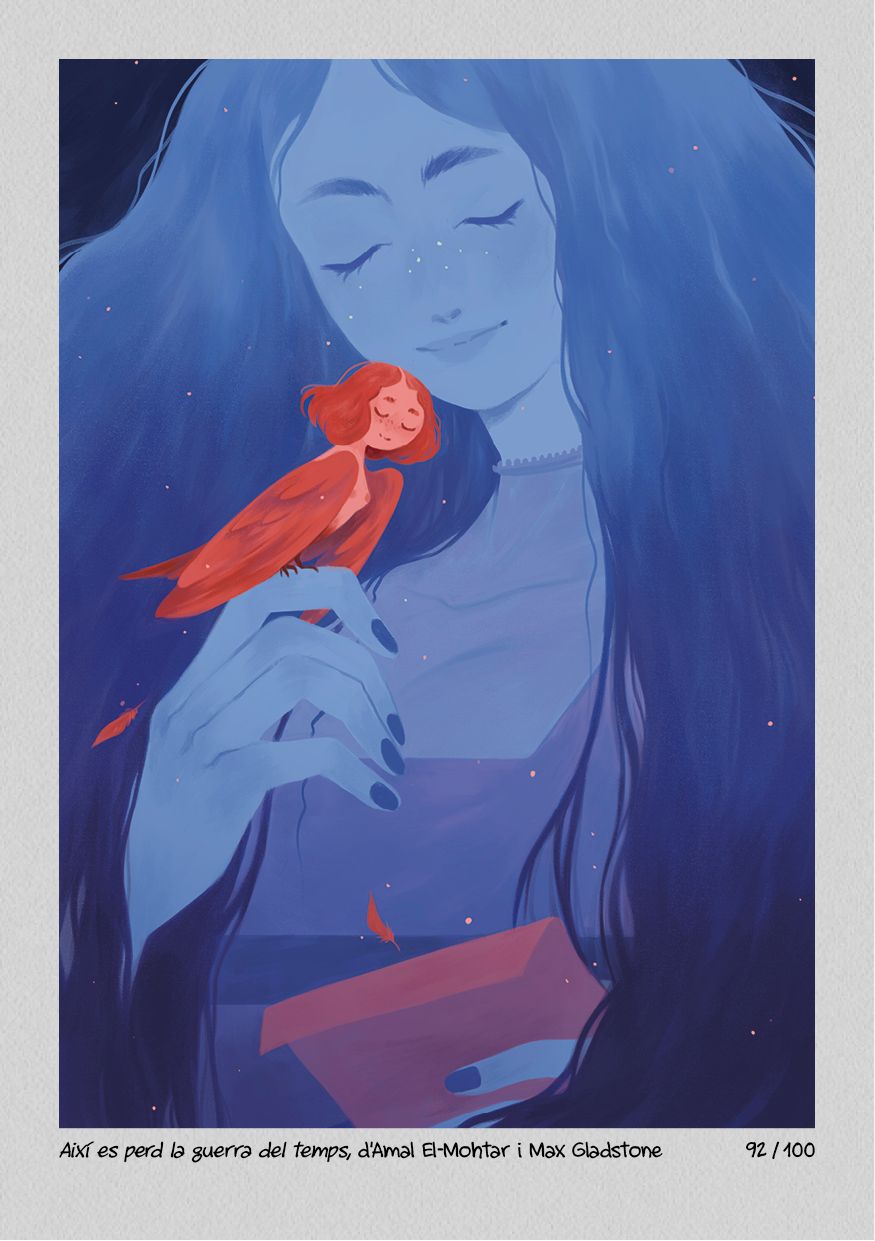 Having a new language in my Twitter mentions as Catalan readers tag me is such a wonderful thing. Absolutely delighted to see this out in the world.
HUSPUN
Another bilingual one which, rather than make me groan, made me dissolve into a puddle of happiness:
"Is the plural of 'hiatus' … Hayati?"
("Hayati" means "beloved" in Arabic — literally "my life.")
Here, have a hastily snapped selfie documenting the enormously rare phenomenon of both cats occupying my lap at the same time.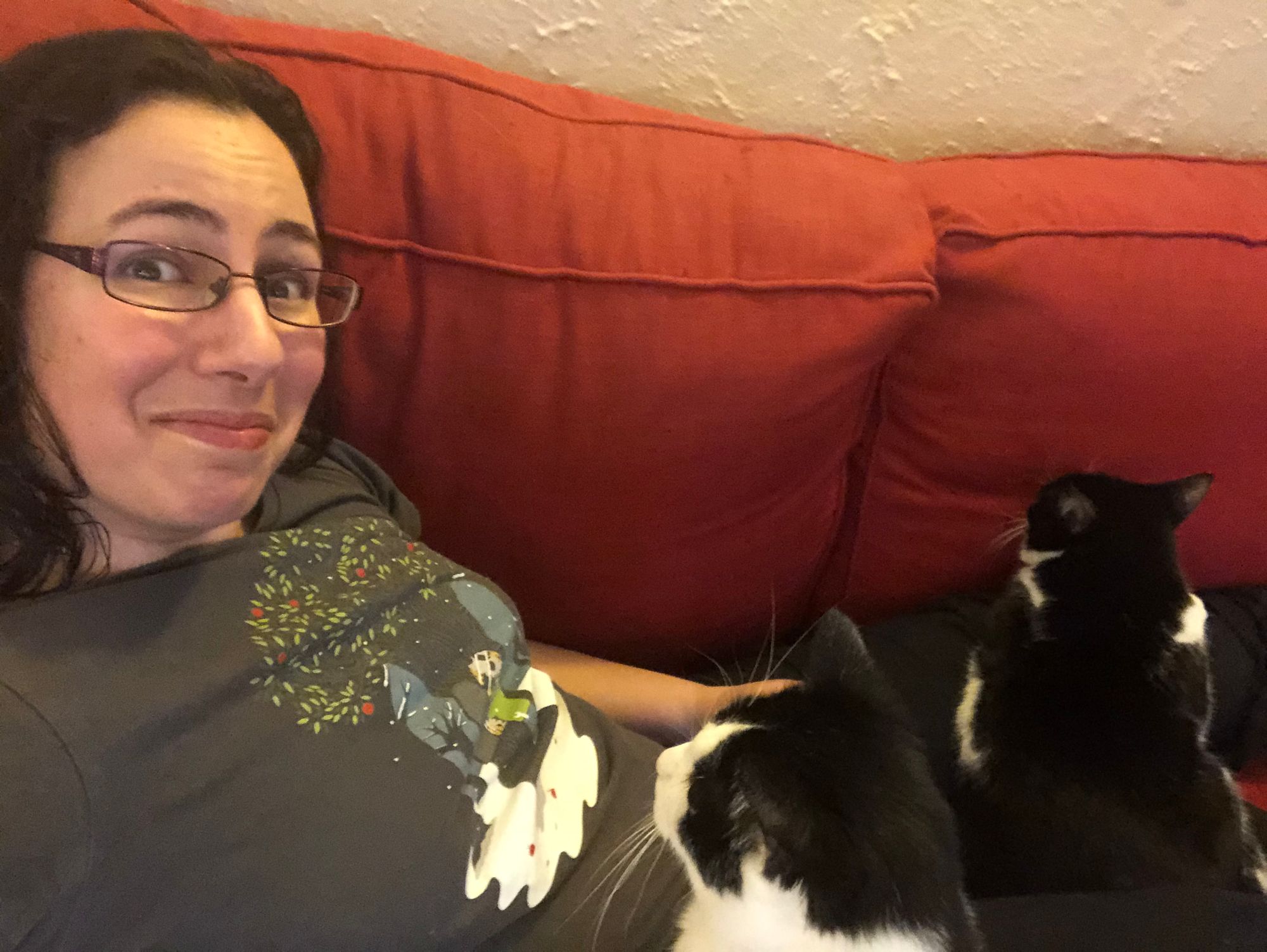 That's it for now. More soon. Please keep yourselves and each other safe as best you can. We'll get through all this together.