Letter of News: Ignyte, Illumicrate, Otherworldly, and a Chat with C. L. Polk
Dear Readers,
It's been a while! In the last Letter of News I'd not yet moved house, and while we're still settling in, things are pretty good. Autumn's been arm-wrestling Winter here in Ottawa, the weather a tense trembling between them, up until a sudden surprise spate of Summer: we've seen bright golden trees shake their colours to the ground, rooftops dusted white, but for the last three days Stu and I have been sunbathing on the balcony every morning, contemplating the south-bound geese in nearby fields.
I hope you're all feeling tension draining from you, sleeping better, feeling your shoulders drop and your jaws slacken.
APPEARANCES
This is a very Zoomful week, between teaching my own classes and appearing in those of others, but I do have one public event happening Tuesday evening (tomorrow night): I'm chatting with C. L. Polk about her wonderful book The Midnight Bargain, hosted by A Room of One's Own in Madison, WI. It's a free event, but you need to register for it. Here's a handy tweet summarizing:

OTHERWORLDLY COLUMN
My column came out last month, covering the aforementioned Midnight Bargain as well as V. E. Schwab's The Invisible Life of Addie LaRue and Susanna Clarke's absolutely incredible Piranesi. The three of them make a rich tapestry together, I find, if you're looking for books to sink into — they're full of bargains, deals struck with spirits and sorcerers for better or for worse — but they are also all books to dwell in, cozily, tensely, enchantedly, full of the witching season's descent.

AWARDS
Max and I are absolutely thrilled that This Is How You Lose the Time War has won the inaugural Ignyte Award, administered by FIYAH magazine and awarded during the first ever FIYAHCON, organized online and fantastic to attend. I was on a very warm and affecting panel with E. Lily Yu, Lisa Bradley, K. S. Villoso and Corinne Duyvis called Beautiful Weeds: Thriving When We Weren't Meant to Survive, which has since been uploaded to their archives (which you can access if you had a ticket to the convention and log in, and which are a treasure trove of fantastic panels).
Incredibly, Time War has also been shortlisted for the Brooklyn Public Library Prize in the Fiction & Poetry category, alongside The Deep by Rivers Solomon and On Earth We're Briefly Gorgeous by Ocean Vuong.
For those keeping track at home (i.e., my parents), our tiny book has now been shortlisted for 12 awards and won 7, with one still pending:
Stabby (won)
Kitschies (finalist)
LA Times Book Award / Inaugural Ray Bradbury Prize (finalist)
British Science Fiction Association Award (won)
Nebula (won)
Locus (won)
Shirley Jackson (finalist)
Hugo (won)
Theodore Sturgeon Memorial Award (finalist)
Aurora (won)
Ignyte (won)
BPL Prize (pending)
And that's … Well, it's pretty freakin' cool, is what it is.
Speaking of cool and also books —
ILLUMICRATE SPECIAL EDITION
Illumicrate — a subscription service for book lovers that makes truly beautiful objects and special mailings — made a stunningly beautiful two-book hardcover edition of This Is How You Lose the Time War, in a fancy slipcase. Look at this loveliness!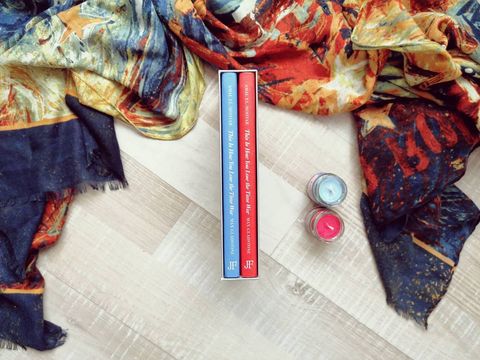 A post shared by @inferno.sis.booksNovember 9, 2020
This is a special limited edition that would, in my extremely biased but no less expert view, make a fantastic holiday gift for someone you love, especially if that person is someone you enjoy reading books out loud with — or someone who always snags the book you're reading before you're finished with it. There's a red book and a blue book, but they both contain the same text — so you can also keep one and send the other roaming the world.
When they're gone, they're gone, so if this appeals to you, pick up yours soon!
---
That's all for now — take care of yourselves and each other, friends.
Love,
Amal