The Twelve Days of Bigolas Dickolas Wolfwood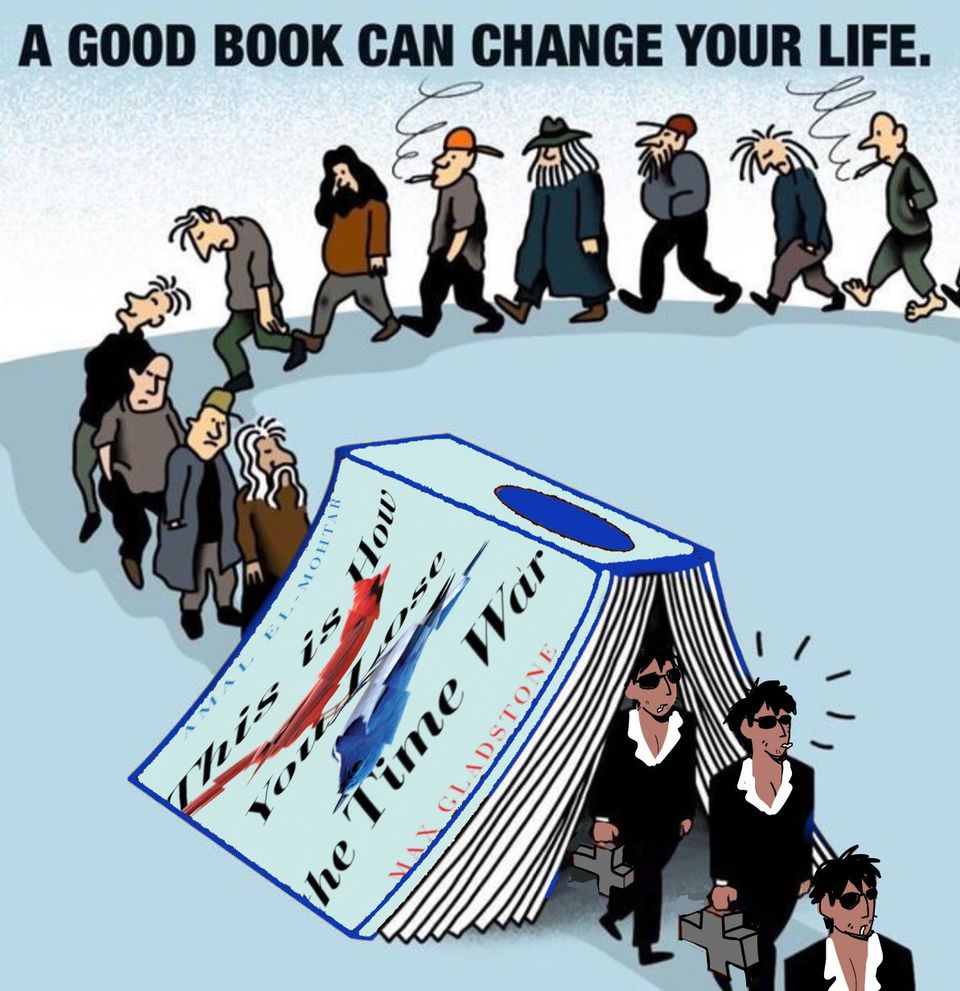 Dear Friends,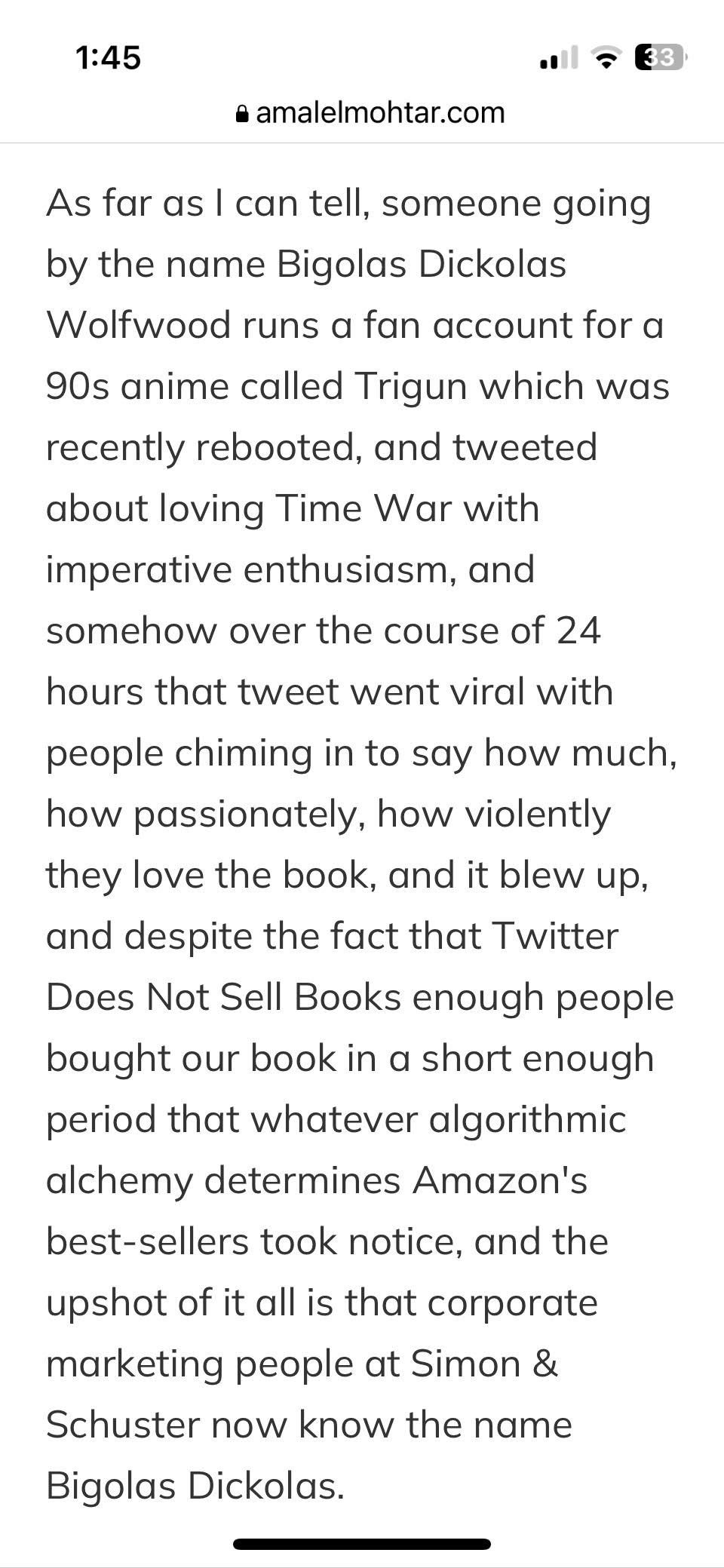 A lot has happened since then.
I truly struggle with how to talk about the past 12 days, during which a viral tweet from an anime fan account with an excellent name turned This Is How You Lose the Time War into a New York Times Bestseller. Do I make a comprehensive timeline like I've attempted to do on Twitter, but less ephemeral and chaotic? Do I do a highlights reel of notable events? A deep-dive into my absolutely enormous and inchoate feelings of feral gratitude, the overwhelm and tumult of everything that was happening out of public view? Do I write a pastiche of the Twelve Days of Christmas? On the first day of Bigmas, our true friend tweeted free: read this. DO NOT look up anything, read!
Nah. I think, for now, with one foot out the door, gazing towards the tranquil island I'm heading towards... Let's go for some mish-mash of the first two.
Bigolas Dickolas Wolfwood (whose username is maskofbun) made their S-tier tweet at 1:39AM EST on Sunday, May 7.
People started showing it to me on Sunday night, and accelerated doing so into Monday morning.
I quote-tweeted it on early Monday afternoon; by Monday evening, I started noticing the Amazon rankings, and the fact that Amazon had slashed the price of the book to encourage the sales acceleration. (To those who expressed shock and concern: this doesn't affect our royalties.)
On Tuesday morning I sent out a newsletter about what was happening; by Tuesday evening Dan Kois of Slate asked if I wanted to chat about it.
We had a lovely conversation on Wednesday morning; the Slate interview appeared on Thursday at 1PM.
Meanwhile other journalists got in touch, and by this point I was able to reach Max (who was in Hawai'i!) and loop him in to conversations with Amanda Silberling at Tech Crunch and Madison Kircher at the New York Times. Those appeared on Thursday and Friday respectively. Gizmodo also interviewed Bigolas Dickolas, who is utterly sweet and kind.
Throughout this, our book kept climbing the Amazon sales ranks in All Books. I saw it go from 21, to 15, to 7, to 6, to 5, to 4, to 3. There it peaked. At one point our agent and friend DongWon Song said our only enemies were now Zelda: Tears of the Kingdom and Mother's Day.
There were media pieces on Gizmodo, Book Riot, Polygon, and many, many more, if my Google Alerts that I haven't had time to click through are to be believed. The nature of the virality began to transform: Yoshihiro Watanabe, the producer of Trigun Stampede, said he'd bought the book.
Then the art started happening.
And the cosplay.
And the STICKERS.
And just as we thought it couldn't go much further... People who'd bought the book in the first half of the week were finishing it, and they started talking about it, propelling the hype cycle further. This Is How You Lose the Time War stayed in the top 5 of All of Amazon for days. "Time War" started trending on Twitter ("Bigolas Dickolas" had done so days earlier).  
Mother's Day weekend came and went. I struggled to finish an overdue book review column for the NYTBR in a pre-travel fugue state while I locked myself out of the internet. I finished it. On Tuesday, Dark Horse Comics announced they were reprinting the original Trigun Manga. Whether or not this was already in the works is an open question.
I boarded a plane to Vancouver, briefly visited with dear cousins, boarded a ferry, arrived at my aunt's on Wednesday–and then this happened: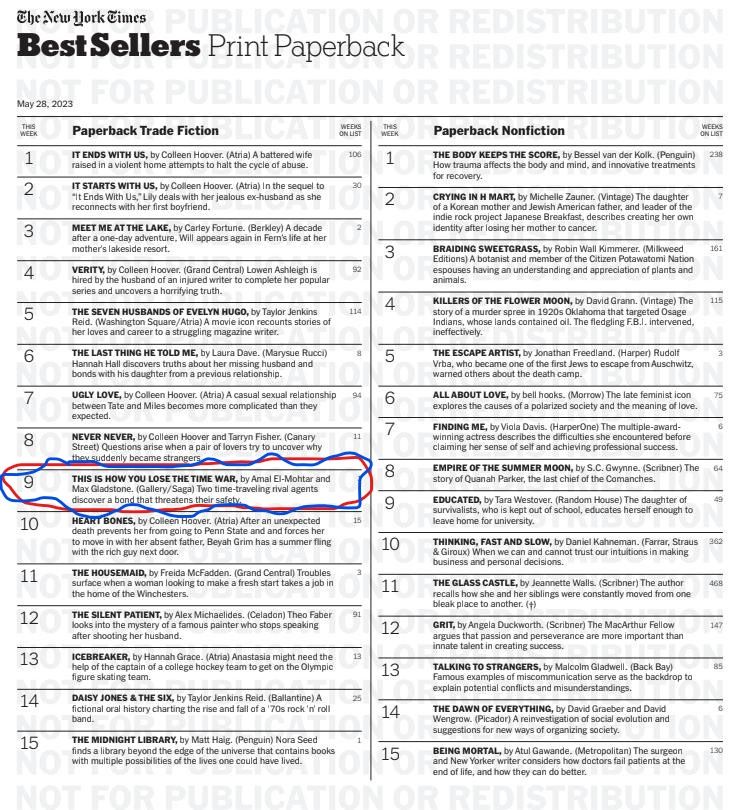 Four years after it came out, This Is How You Lose the Time War is a New York Times Best Seller. Max and I are New York Times Best Selling Authors. Neither we nor the book have ever had this distinction before; now we will have it forever.
Because of Bigolas Dickolas Wolfwood, and you.
Skipping over the rainbow rivers of feeling this has produced in order to continue the highlights reel – oh, you thought it was done? Ha! No! Because now the art/cosplay/stickers have formed a triumphant sort of internet Voltron:
So here we are. Friday, May 19. It's been 12 days of this magnificent chaos beauty, this tremendous cycle of self-amplifying joy. And this is where I have to leave it, for now, because I am vanishing into the literal wilderness tomorrow and putting up my autoresponder and I cannot imagine a higher point at which to leave the internet, to leave Twitter after it gave us one truly good and glorious thing.
But if you can believe it – there is more news to share under separate cover: some that happened in this window of time independently of this magic moment, and some that will be announced later as a direct consequence of it. All of it has thoroughly changed my life. But for now, this is where I'll close the Ballad of Bigolas Dickolas, and send you over to read Max' newsletter, which has more of the deep, beautiful feelings portion of this experience from his perspective.
Love and Peace!
Amal