Lightspeed Column: RADIANCE, THE BURIED GIANT, BONE SWANS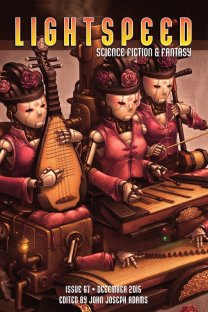 My Lightspeed column for the December issue is now online! I take a look at Catherynne M. Valente's Radiance, Kazuo Ishiguro's The Buried Giant, and CSE Cooney's debut collection Bone Swans. 
My rationale for reviewing these wonderfully varied books together is the strong fairy tale through-line connecting them; winter's a fairy tale season to me, for all that the weather seems stuck in a wet late autumn. Mid-December and the geese still haven't left the river, and the squirrels are fat enough to keep a family of bald eagles hanging around.
I hope you'll check out these books! If you enjoyed the review, I recommend picking up the issue, or even better, subscribing to Lightspeed. It's (rather obviously) one of my favourite magazines.
#SFWApro