Munching the Numbers: Eight Years of Goblin Fruit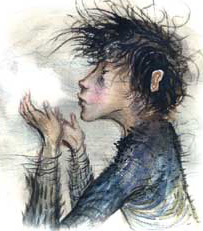 I've said before how, when I'm feeling a bit down or listless for whatever reason, I go look at Goblin Fruit. I re-read old poems. I take in the different art styles and remind myself of the curation process for this or that issue.
This morning — I don't know, possibly it's the equinox, but I feel at the cusp of a great many things, and I'm a little afraid and uncertain, and I want so much to be working towards my best self, and in among all this hesitant fumbling about in the cupboard of my soul I decided to do a proper tally of all the poems published in Goblin Fruit over the last eight years.
(It's really been eight years.)
So here are eight facts about Goblin Fruit:
 We've put out 32 issues in eight years.
 Including Features and contest entries, we've published a total of 481 poems.
 That's an average of 15 poems an issue, or 60 poems a year.
 The largest number of poems in a single issue was 26, in Fall 2009; the smallest number of poems in a single issue was 8, in Summer 2013.
 We've showcased the work of 14 different artists, including the unrepresentable Oliver Hunter, who established the zine's visual aesthetic over its first five years. I can't even articulate how privileged I feel to have watched his art explode from strength to strength over that time, from style to style, always and utterly itself. He is Protean in ways only the truly original can be.
 Over the course of eight years the three founding members of Goblin Fruit have only ever been in the same physical location once, over a period of two and a half weeks, overlapping with the launch of the Summer 2007 issue, for which we co-wrote the Note from the Editors while sitting in a Kensington park at twilight with a well-travelled bottle of Shiraz, fox-spotting in between jots.
 Until Fall 2013, poems by men had never accounted for more than 40% of a given issue; the largest number of poems by male contributors in a single issue was 7 (out of 26). Our Feature on Mike Allen in Fall 2013 contained 10 poems, which, combined with Jason McCall's contribution, brought the total to 11 poems out of 19, for an unprecedented 57%.
So there we go. It looks like we'll hit our 500th poem before the end of this year.
I think that's something.
#SFWApro