New Magazine Day: UNCANNY and LIGHTSPEED
Daunting as it may be to begin a whole new month, it's always exciting to me to see new issues of my favourite magazines drop, especially when I have something to do with them.
In the May issue of Lightspeed, I have a review column themed loosely around time (and the running out thereof). Here are some teasers from it while awaiting its release online May 17:
Four Roads Cross by Max Gladstone:
Time is of peculiar concern to Max Gladstone's Craft Sequence mosaic: it's a meta-tool for curating the series' tension from book to book.
Clockwork Canada, edited by Dominik Parisien:
This is not a collection of beaver jokes and maple syrup.
Binti by Nnedi Okorafor
This is a startling whirlwind of a book that engaged and entranced me, and then left me arguing back and forth with myself over what I thought it had done.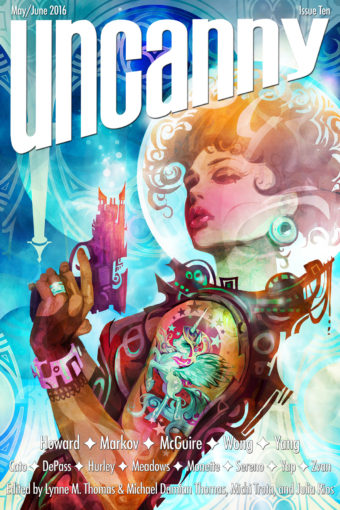 And today sees Uncanny drop its 10th issue! BEHOLD THIS COVER by Galen Dara! Feast your gaze upon its magnificence! You can buy a print of it in Uncanny's new shop.
My contribution to the issue is a podcast reading of Seanan McGuire's heart-breaking "Ye Highlands and Ye Lowlands." Given the title and the epigraph, I sing a tiny bit. Consider yourselves forewarned/armed, etc.
#SFWApro