I'm very happy to see Uncanny Magazine's Issue #5 arrive today, bringing with it exceptional essays, stories and poems. Thus far I've only read Sofia Samatar's "Writing Queerly: Three Snapshots" and Mary Robinette Kowal's "The Midnight Hour" but both are utterly wonderful.
I read "The Midnight Hour" for the podcast, and was challenged (read a beautiful/heart-breaking sex scene out loud for hundreds of strangers in a way that doesn't play it for laughs, whaaaat) and moved by it. It's really, really great: a beautiful mix of consent, sacrifice, and the ethics of "rescue." I love how much of Kowal's fiction involves married couples shouldering burdens together and fighting side by side.
Sofia's essay is just, you know. Sofia Samatar. What do we even do with the fact that there is such a person writing such things in the world. Her fiction devastates me, her poetry wracks me, her non-fiction's always lighting my brain on fire. Small wonder I'm always longing to devour hers!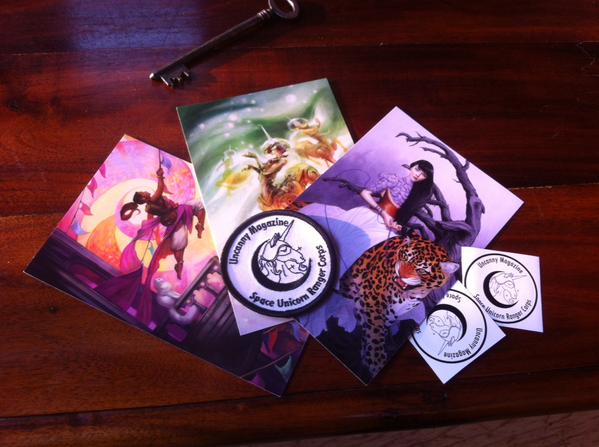 Anyway those are only two small parts of an amazing-looking issue! If you like what Uncanny does and would like to support them, please consider doing so through their Patreon or through a subscription. The Patreon has options where you receive eventual swag… Judging by what came to me in the post yesterday, it's definitely going to be shiny!
#SFWApro