NPR Reviews: THE PHILOSOPHER KINGS and SHADOWSHAPER
A couple of reviews of mine have gone up on NPR Books recently! Here are snippets from them.
First, Jo Walton's The Philosopher Kings, the second book in her Thessaly sequence, following The Just City.
Jo Walton's The Just City, which came out in January and which I utterly adored, ends on a wicked cliff-hanger… With what bright eagerness did I look forward, therefore, to The Philosopher Kings, hungry to pick up from where I left off, to know how Simmea, Apollo, and Maia address these problems …

… only to hear Walton cackling, Trollope-like, at my devastation in finding that The Philosopher Kings is set THIRTY YEARS LATER.
Second, Daniel José Older's Shadowshaper, a gorgeous YA novel featuring characters I wanted to befriend.
What struck me throughout this book was the beautiful, nuanced, supportive and loving nature of Sierra's community. Made up of her friends, her family, her extended family's friends, her neighbors, there's tremendous joy in their every interaction: The banter, the support, the kindness threaded through merciless teasing. There's conflict too, of course, but that bedrock of love and affection is always there — and it's utterly nourishing to see such a gorgeous, diverse mix of characters from different backgrounds frankly discussing their histories and futures. Sierra's own movement through her family secrets is very effective, and the decisions she makes — of what to embrace in herself, from her nappy hair to her magical abilities — are powerfully moving.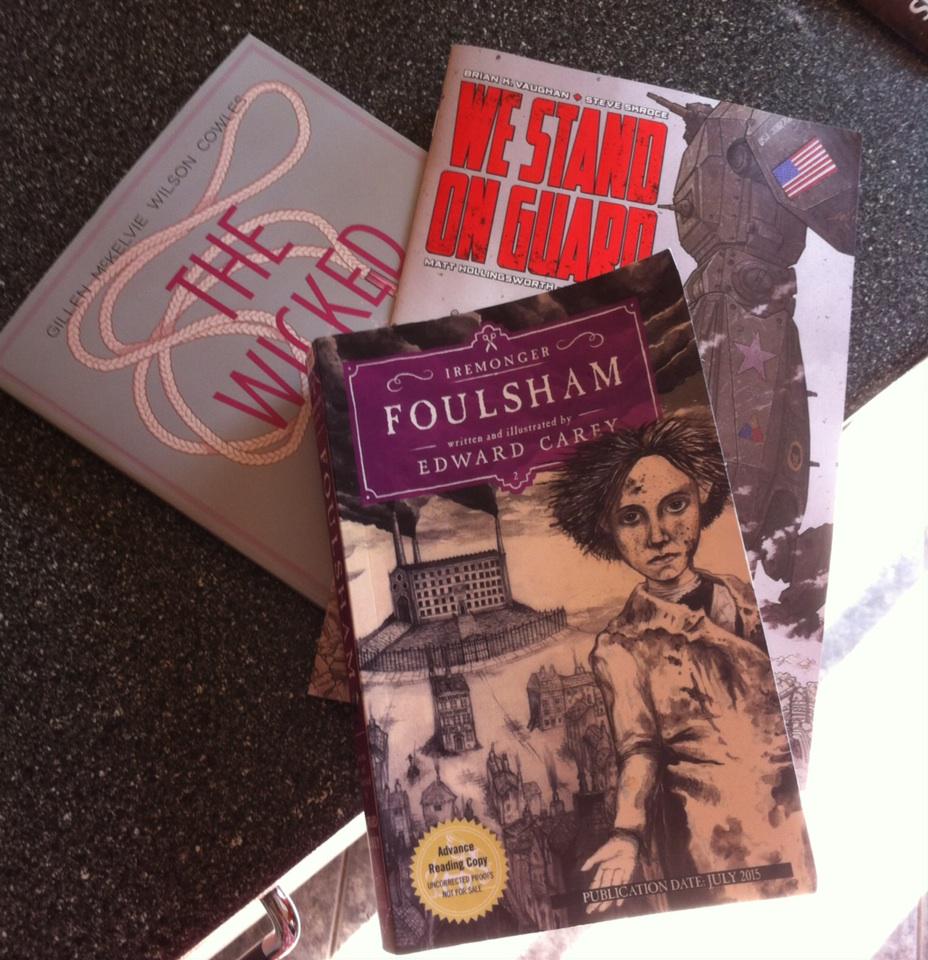 Presently I'm reading Edward Carey's Foulsham, the sequel to his incredible Heap House, which was one of my top three books from last year. Foulsham thus far is fully as good and I find myself resenting time I have to spend away from it. It's coming out in a few days, and so will my review.
Likewise featured in photo: things I won't review for NPR but that I have thoughts about for later. Briefly, The Wicked + the Divine vol. 2 is AMAZING, significantly better than the first, which was certainly no slouch; We Stand On Guard #1 I am still sorting complicated feelings about, but will keep reading. CBC reviewed it, though!
So that's me for now — what are you all reading?
#SFWApro