October: A Summary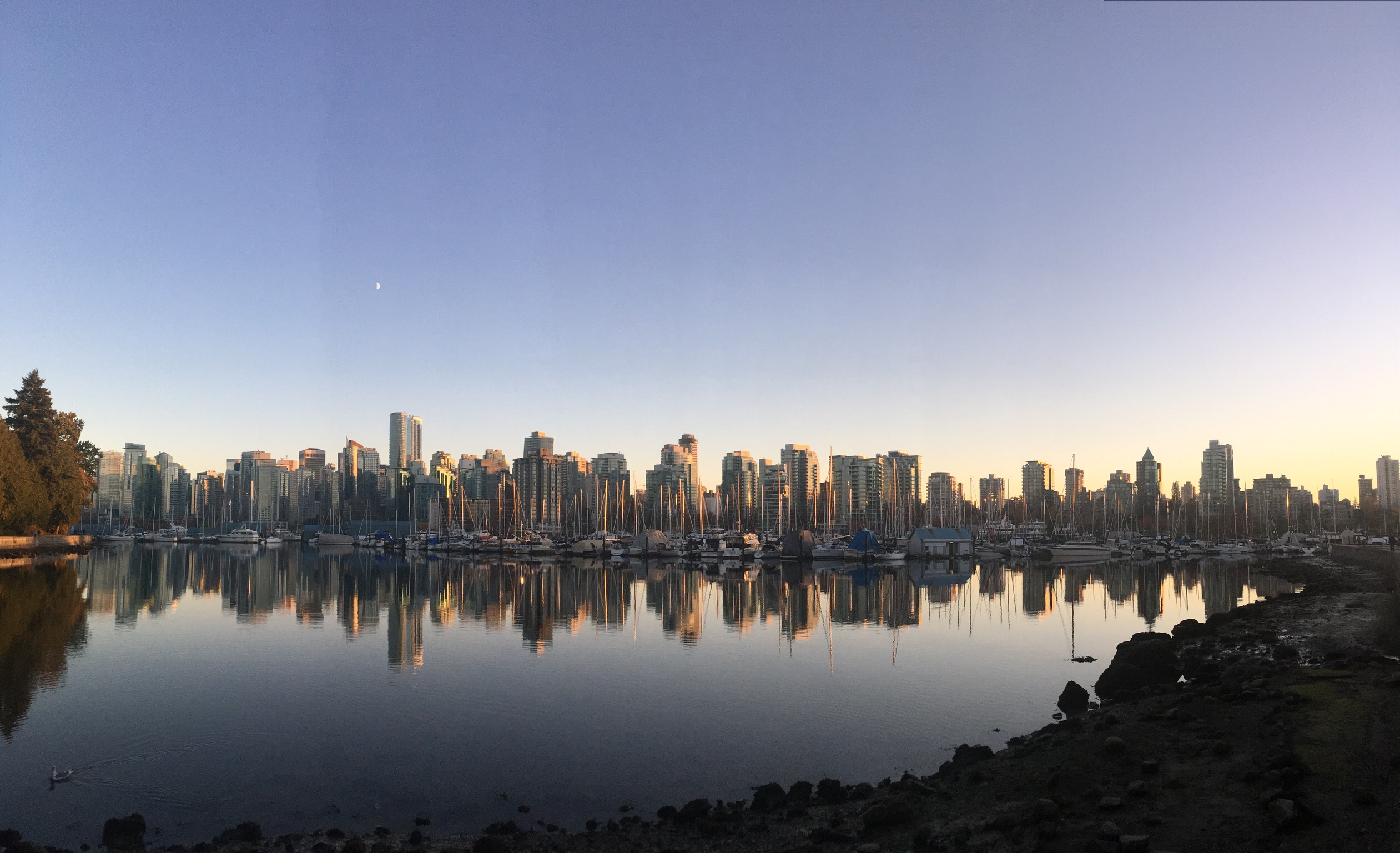 I feel like if I don't start writing about all the beautiful things I've experienced this year, they'll just vanish and maybe have never been. I've had "Blog the Summer" on my to-do list since the first week of September, and now it's the last day of October; I exist in a perpetual state of Catching Up on Email, and it's all I can do to stay on top of important deadlines.
But today's Samhain, the year's hinge, and I have a space of time to sit and write before flipping the calendar page, so at the very least I want to talk about what an incredible month it's been.
It began with a lovely visit: Stu's parents came and stayed with us for the first ten days, celebrating Canadian Thanksgiving, during which we had unseasonably perfect weather, though this unfortunately meant the trees weren't as spectacularly colourful as usual. Still, it wasn't exactly shabby.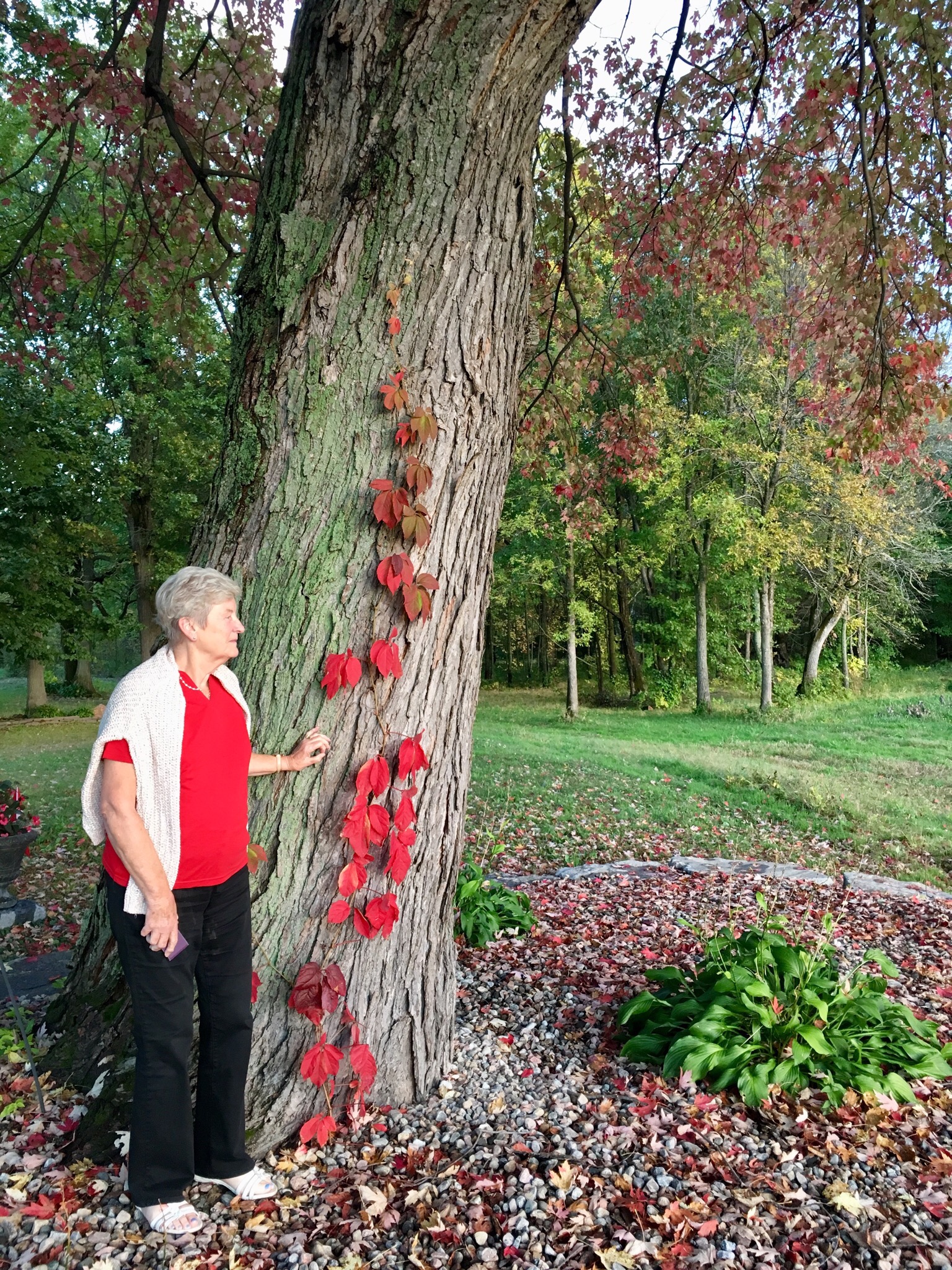 In spite of the fact that I was writing reviews, wrangling grant applications and revising research projects, we managed to do some neat stuff together: we visited Carleton's annual butterfly show…
…and went on a boat trip through the Thousand Islands.
On top of that I was teaching weekly workshops at Glashan Public School under the auspices of the Ottawa International Writers' Festival, having an absolutely wonderful time with Sharon Kuiper's 8-8 class. I taught four different workshops — on character, fairy tales, poetry, and writing spontaneously from a taste of honey — and was always blown away by what the kids managed to come up with. I'm really looking forward to them sharing their favourite pieces at the showcase in November.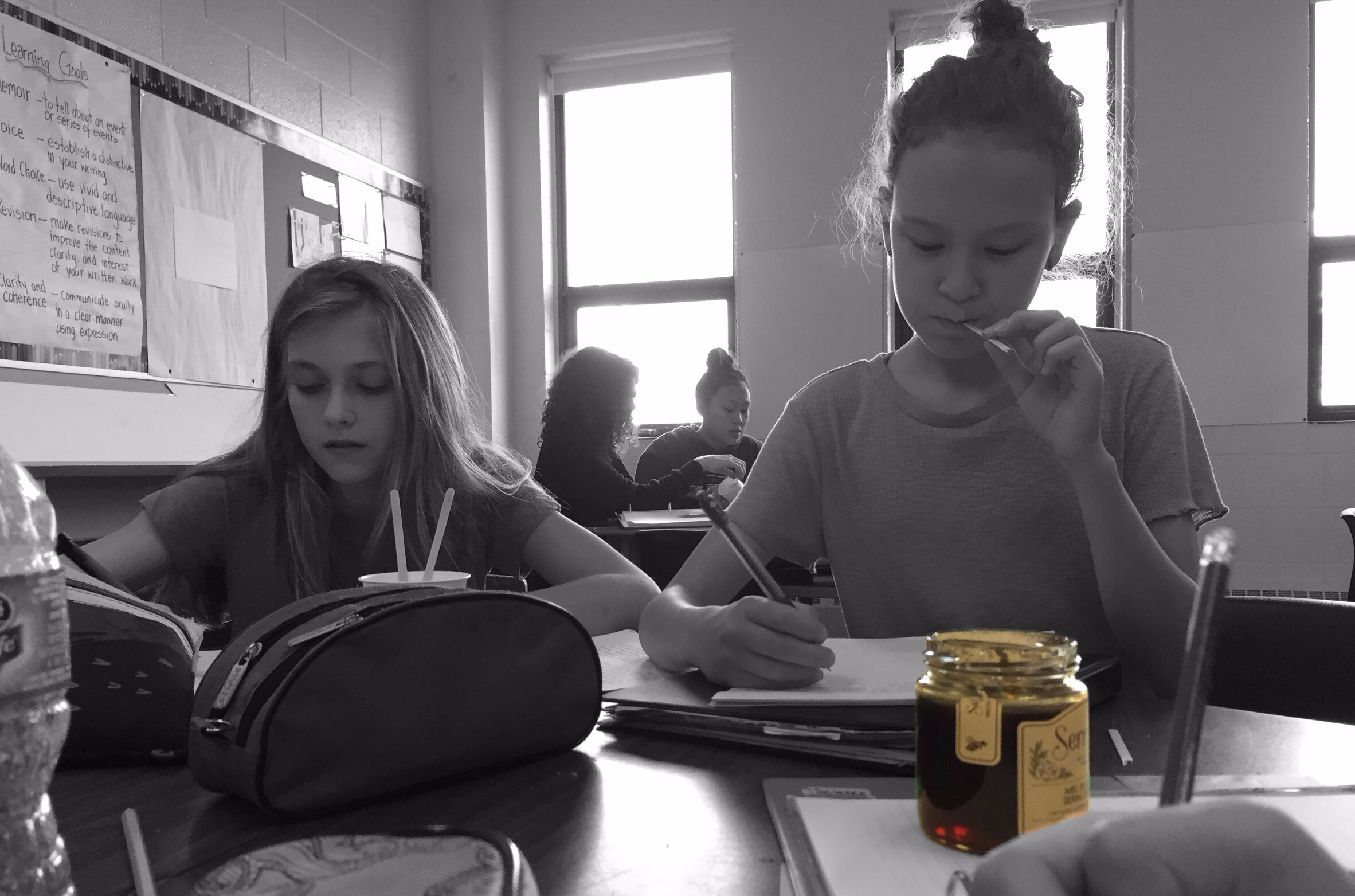 No sooner did my in-laws leave than it was time for Can*Con! Dominik Parisien and Kelsi Morris came over from the shadowy place Toronto for it and stayed with us while attending. I had such a blast with them — when I wasn't on panels having great conversations, I was at their table in the dealers' room, watching the stack of The Starlit Wood copies steadily diminishing over the course of the con.
That last photo is of the final three copies, an appropriately fairy tale number with which to close out the con.
Immediately after THAT… I had a very special duty to perform.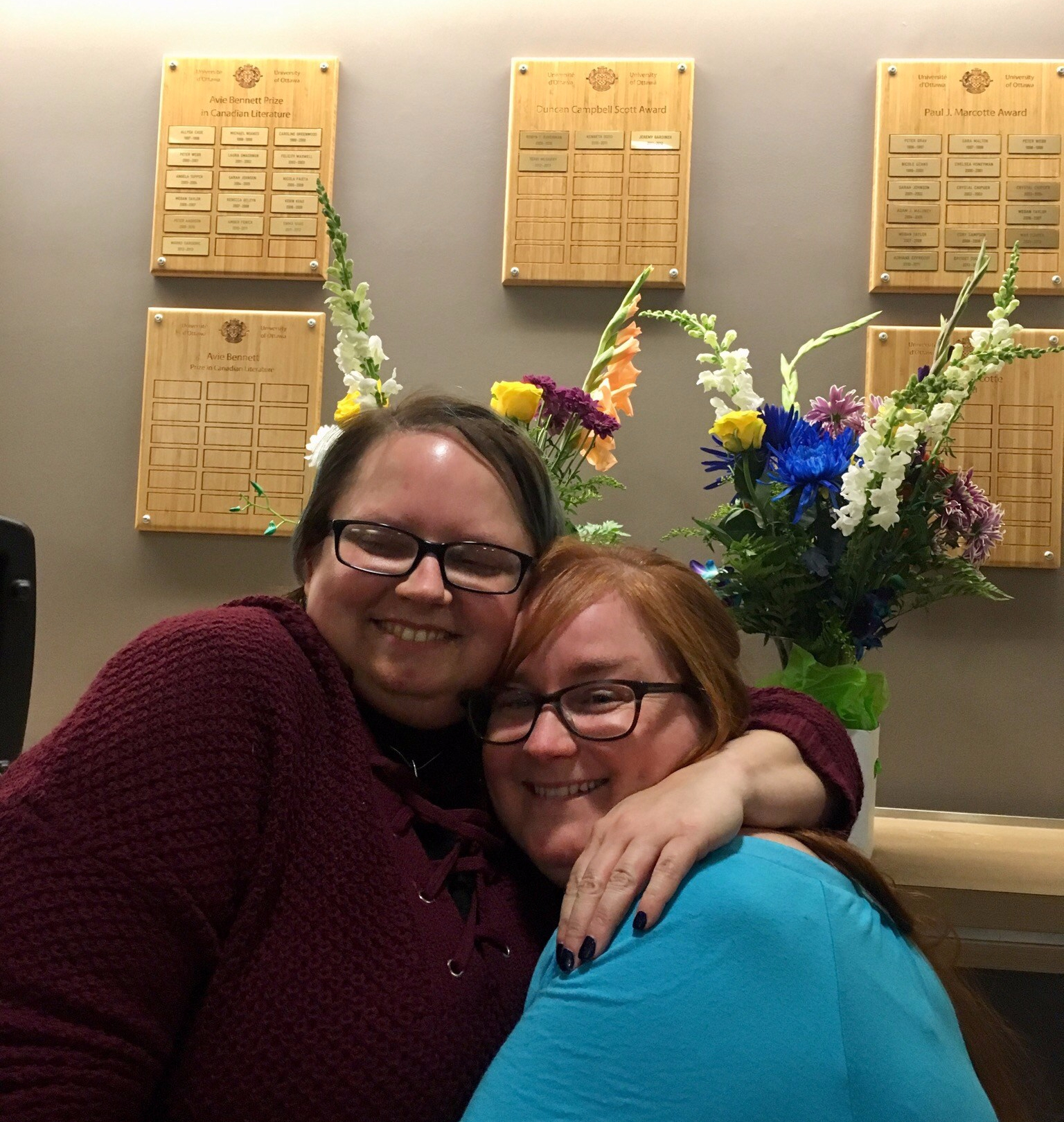 I had to keep Nadine (left) distracted at a very nice dinner (which went WAY too long) while Jenn (right) prepared to propose to her via private flash mob dance in the place they first met. It all worked out, in spite of my anxiety-fuelled nightmares of making everything go wrong NEARLY coming true! But they didn't! And now Jenn and Nadine are affianced and everything is amazing and best!
I was up at 6:00 the next morning for a flight to Chicago!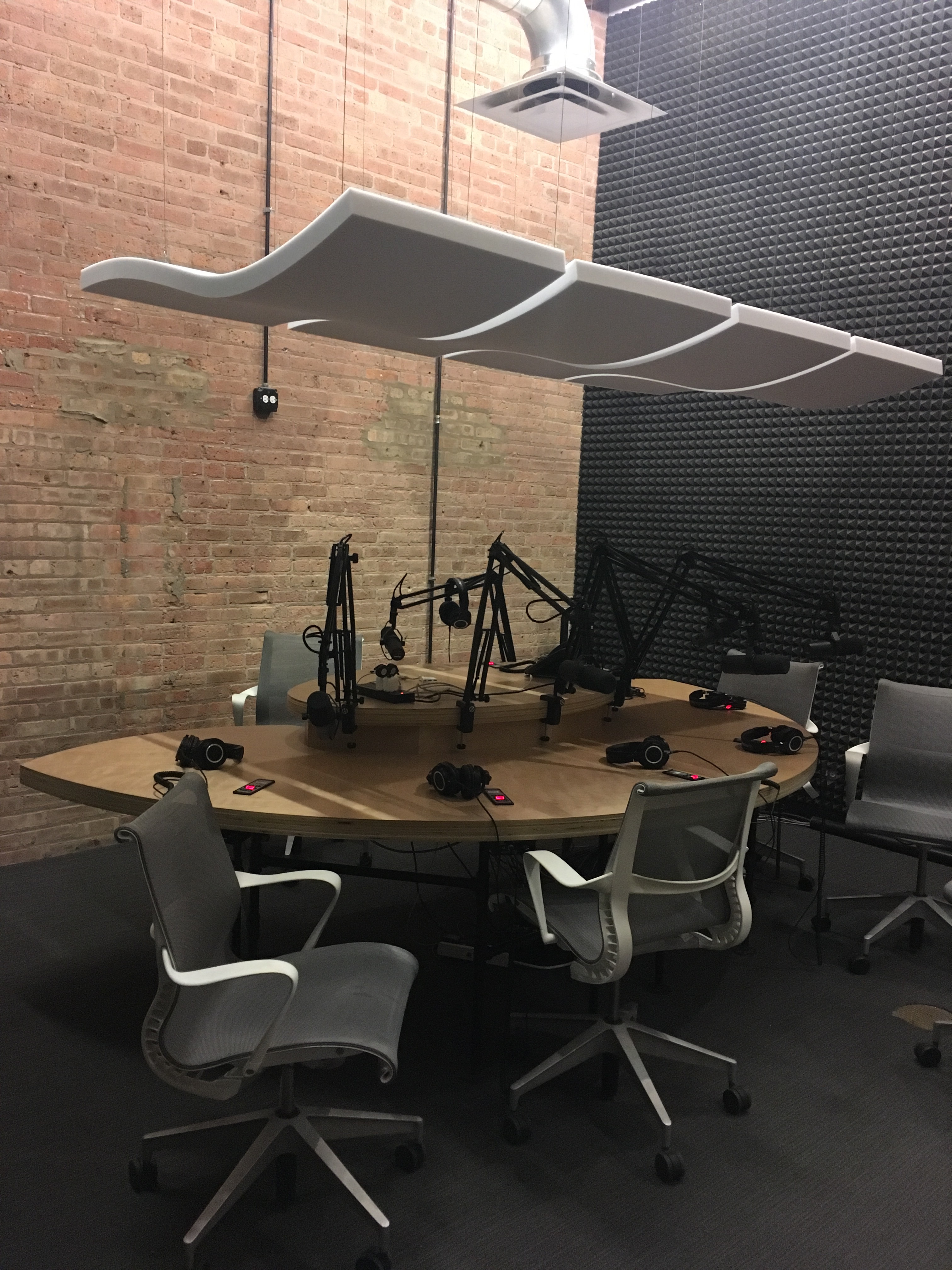 The fine folks at Writing Excuses invited Maurice Broaddus and me to be next year's guest hosts, and we recorded a year's worth of episodes over two days. This was intense and amazing: distilled, beautiful, challenging conversations about craft, where I felt myself learning as much as I was performing and thinking. After the first session, we repaired to Mary Robinette Kowal's beautiful home, where she made us Boulevardiers and taught us to appreciate three different Vermouths.
It may have been how perfectly balanced were the cocktails, but whenever I tried to say how satisfying I found this work even when difficult, how much it felt like flexing muscles into new strength, how grateful I was for it, I mostly just teared up. I'd be thinking about it for the rest of the trip, though, as I went from host to host, conversation to conversation. I'm so excited for these episodes to air — partly because I'm looking forward to listening to them and reliving those two beautiful days over again.
(The following morning I would, in an attempt at helpfully doing the dishes, break one of those beautiful cocktail glasses. Mary forgave me. This will be Important Later.)
Also, dear gods but the Cards Against Humanity building is amazing. They have Global knives in the extensive kitchen! They have a shipping crate turned meditation space! This is the wallpaper in the BATHROOM.
And this is what's on the outside!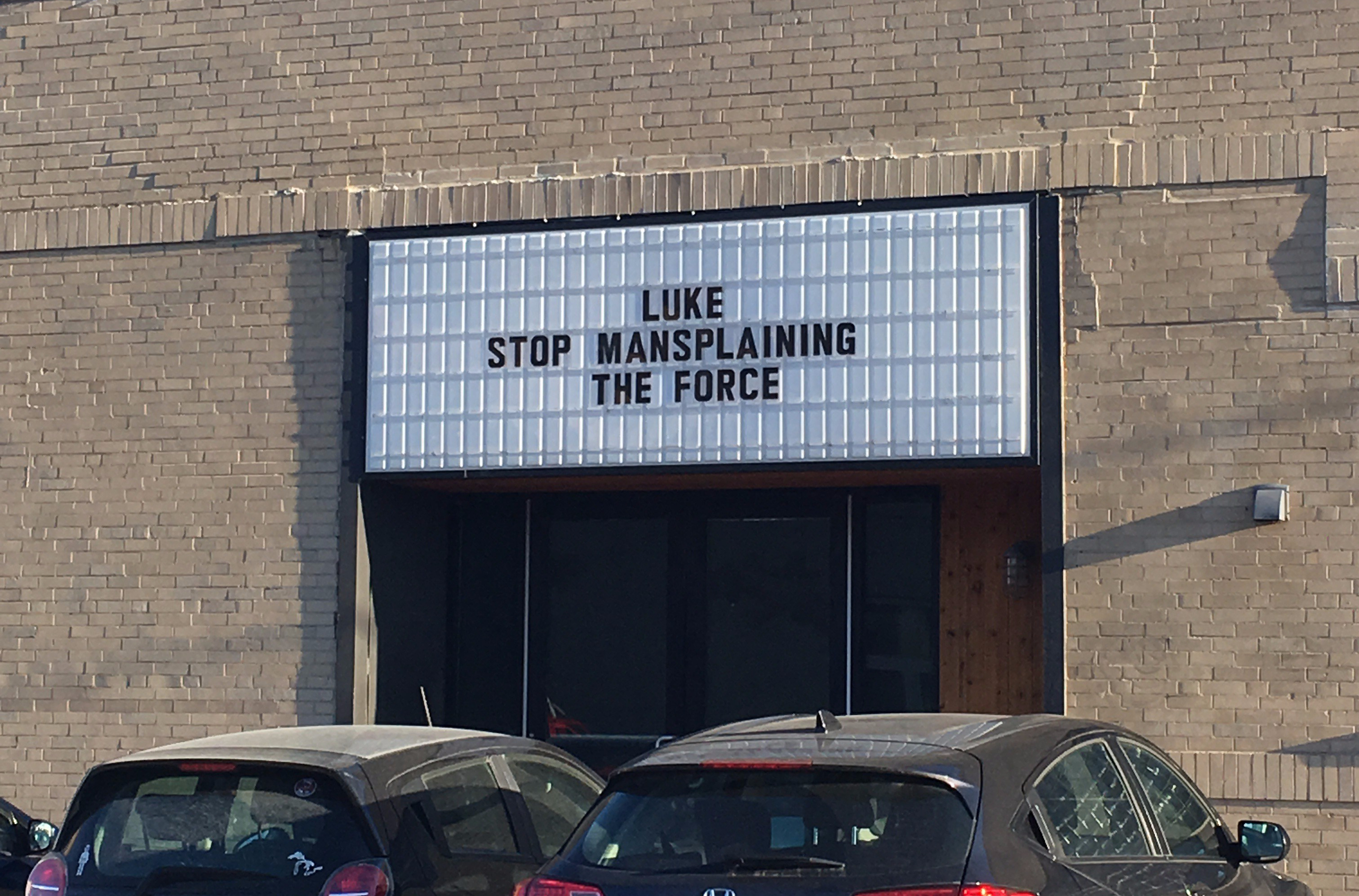 After a lovely last evening with Mary spent in conversation I didn't want to end, we got ready to part ways and reconvene at the Surrey International Writers' Festival.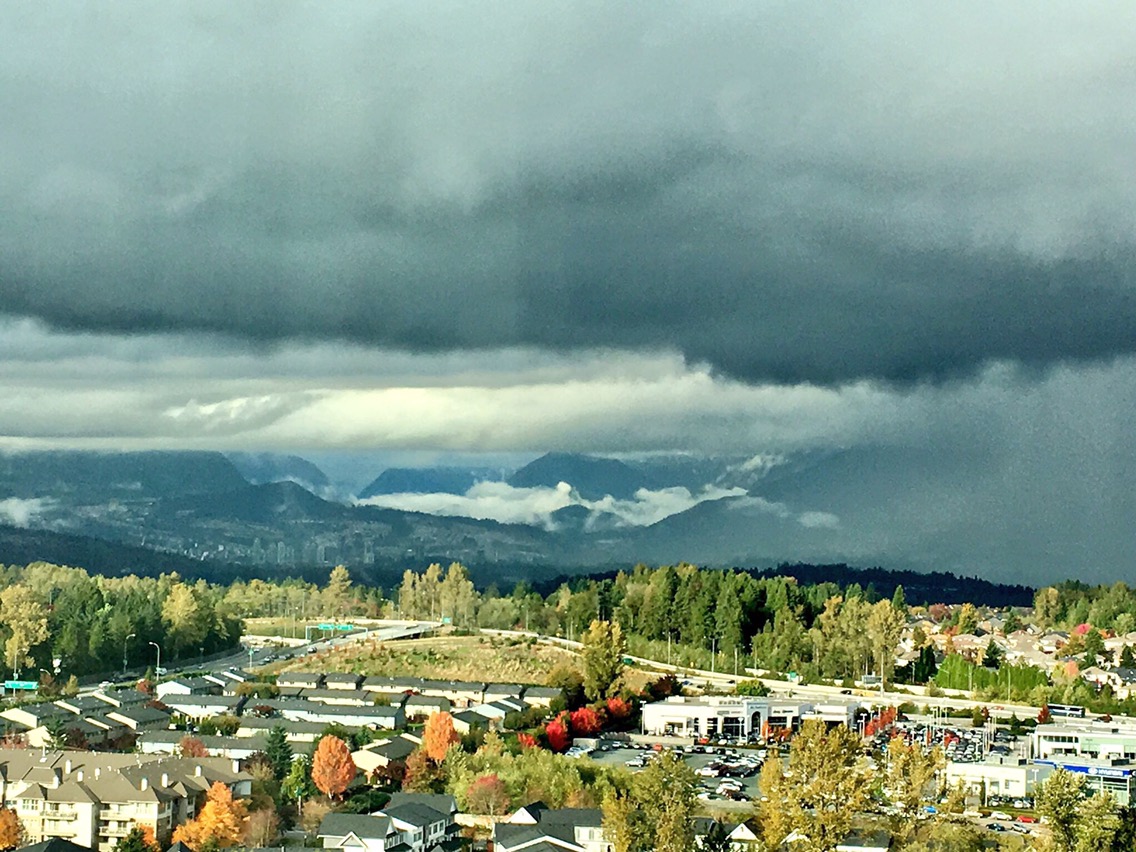 That was the view from my hotel window, which I periodically lost time to, sitting on the couch beneath it and just watching curtains of distant rain parting over the mountains.
Surrey really deserves its own post, because I want to go into more detail about how magical everything was, how wonderful the workshops and keynote speeches, how kind the attendees, organisers, and volunteers. For now, suffice it to say that I delivered two workshops, a Blue Pencil session (where writers come up to you with three pages of manuscript and you go over them in fifteen minutes) and a keynote, had an amazing time — and then, on the last morning, a ridiculous thing happened to Stu!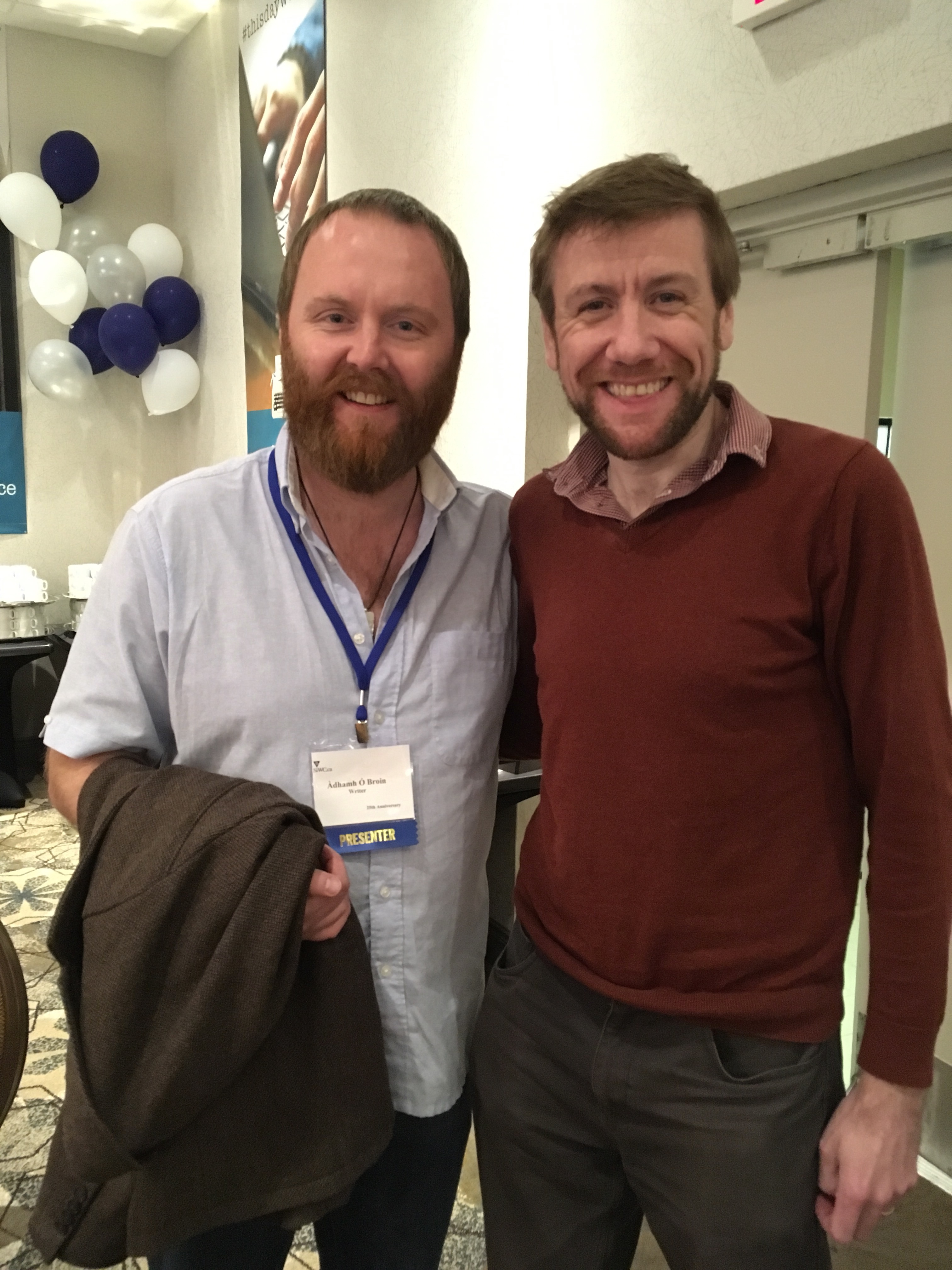 Not only did he find the only other ginger-bearded Scot in attendance at a literary conference in Surrey, British Columbia — he turned out to be his friend from highschool! Àdhamh Ó Broin is a Gaelic language consultant on Outlander, and had come from Glasgow to give workshops too. This is literally the second time this happens to Stu while we travel — Glaswegians clearly get around.
Then the conference was over, and after a weekend of solid rain, Surrey bid us a lovely farewell.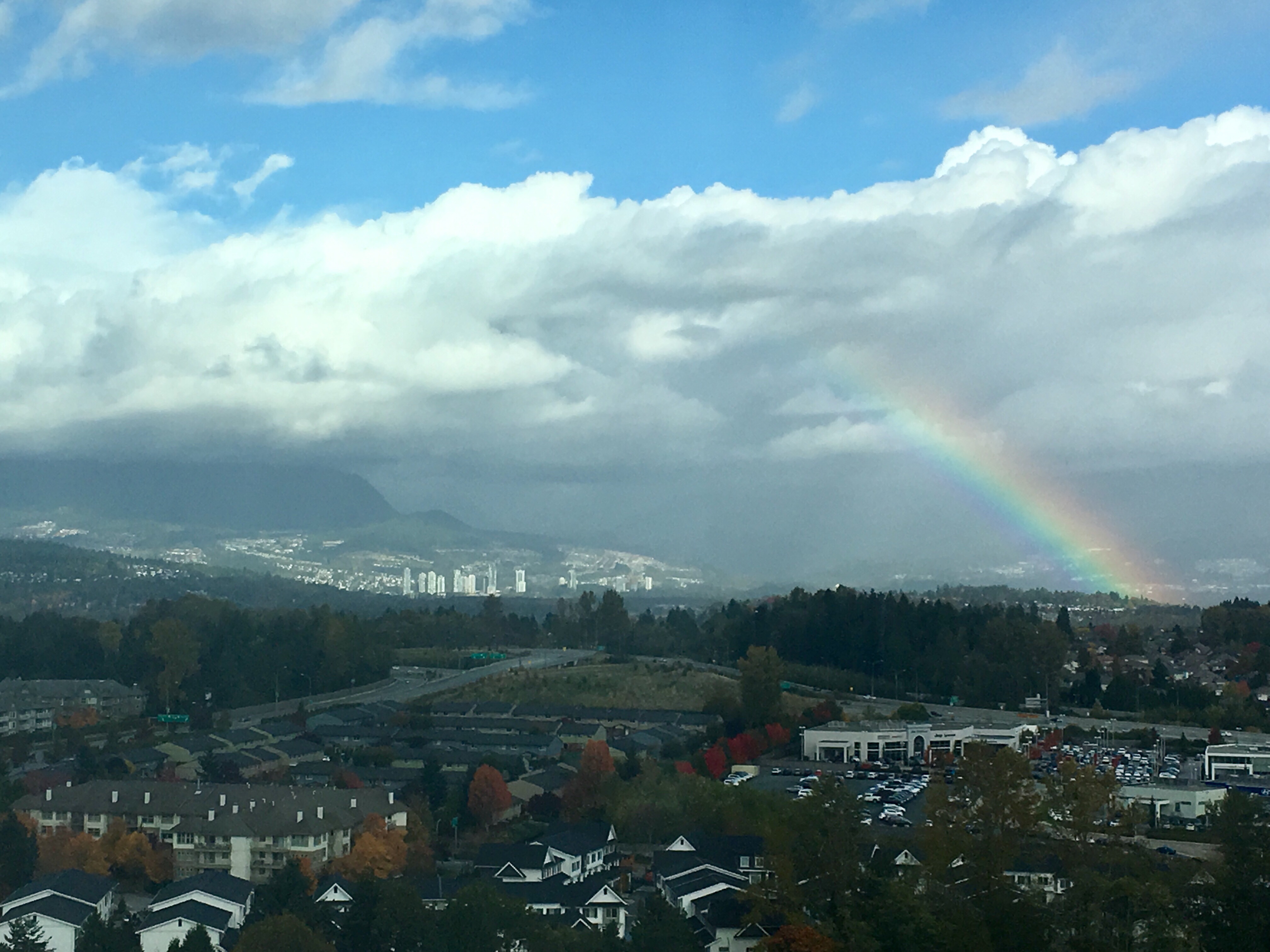 And we were off to Portland!
DongWon Song — AKA SFF Ron Swanson or, more colloquially, World's Best Agent — had driven up to the conference, and offered Stu and me a lift down to Portland. Neither of us had ever been in the Pacific Northwest, and the drive was breathtaking; we stopped in Seattle for soup dumplings and chat with a newly local friend, and kept on our way.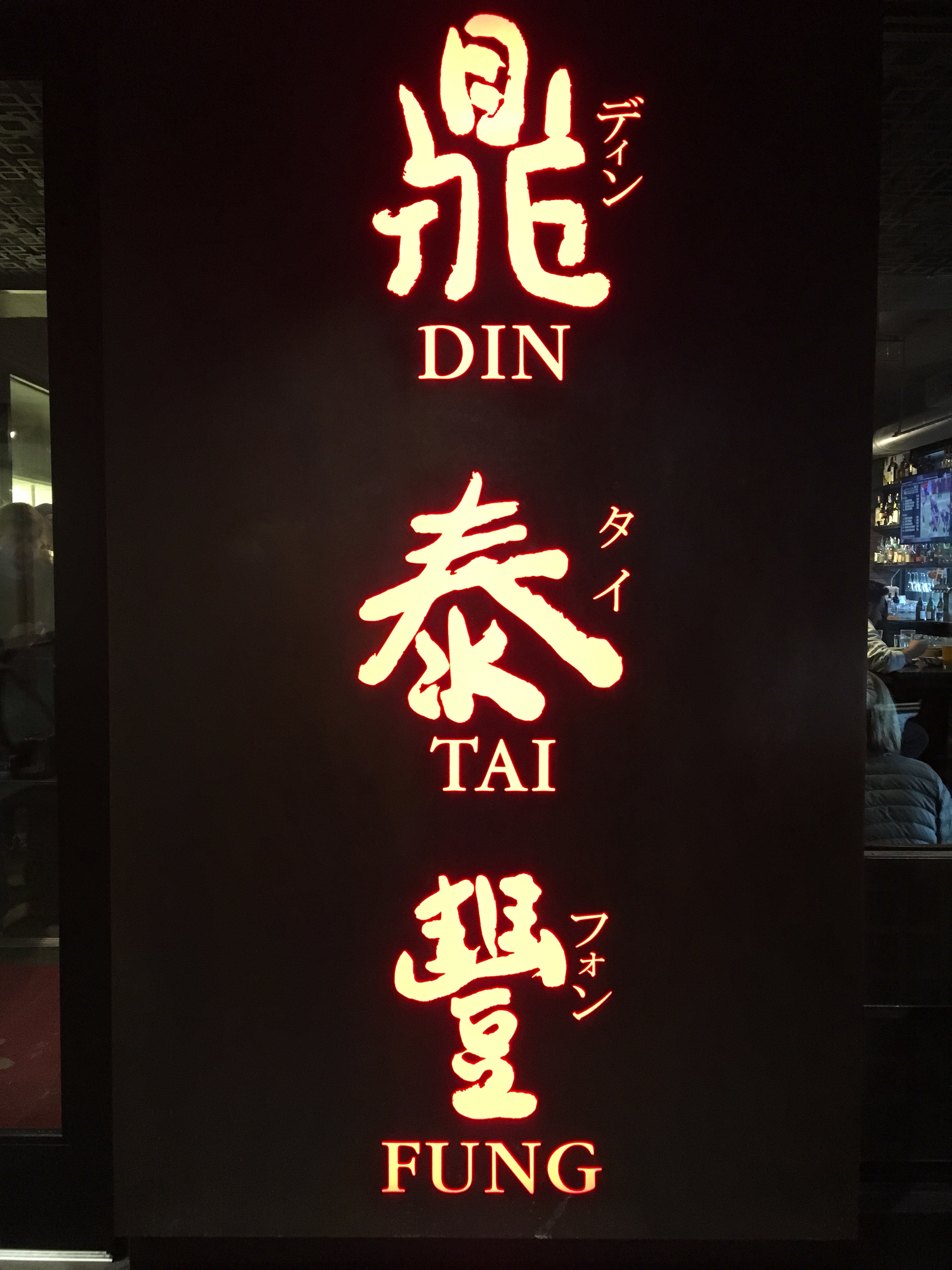 Ostensibly I was going to give a talk to his students — who were all super smart, asked fantastic questions, and were generally a delight — but after that it was basically a holiday. Oregon is absurdly beautiful, and DongWon and Kristin gave us a fantastic foody tour of it, from food trucks to fancy restaurants to tastings of tea and honey and salt.
But better than any of that was the Bo Ssam he cooked for us on our last night there, with all the trimmings.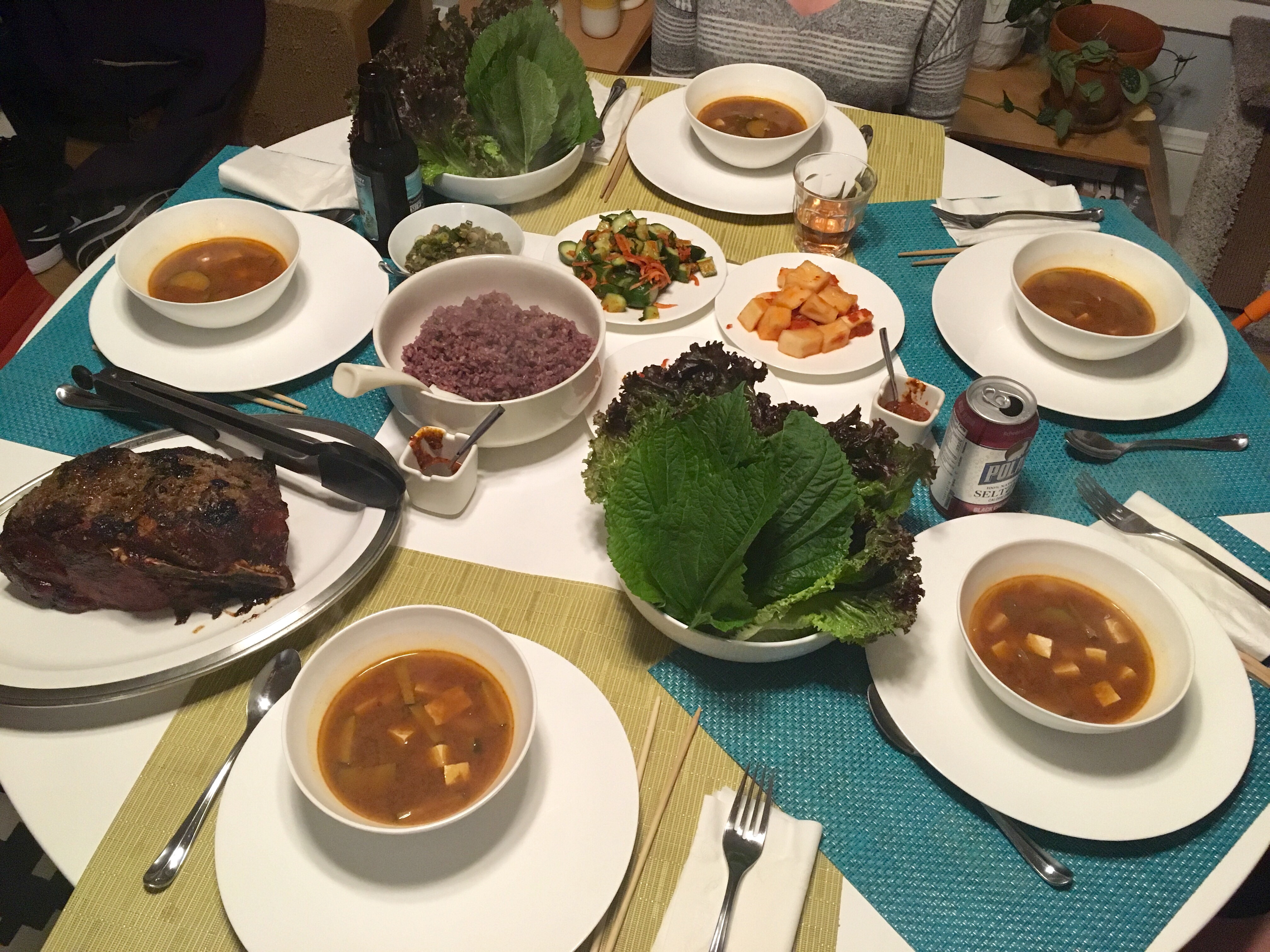 On top of everything else, he drove us to the coast, so that Stu could greet the Pacific.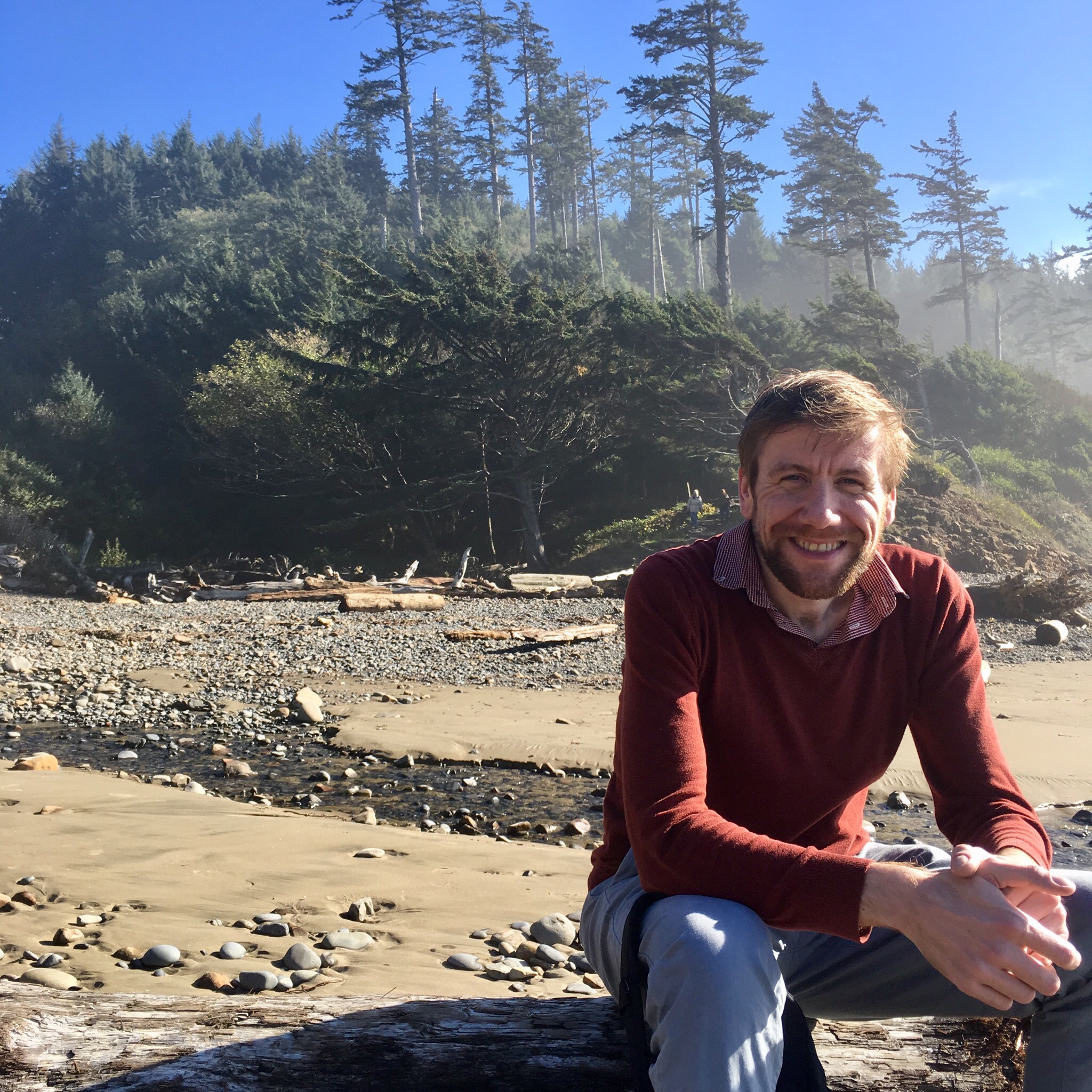 The views were impossible.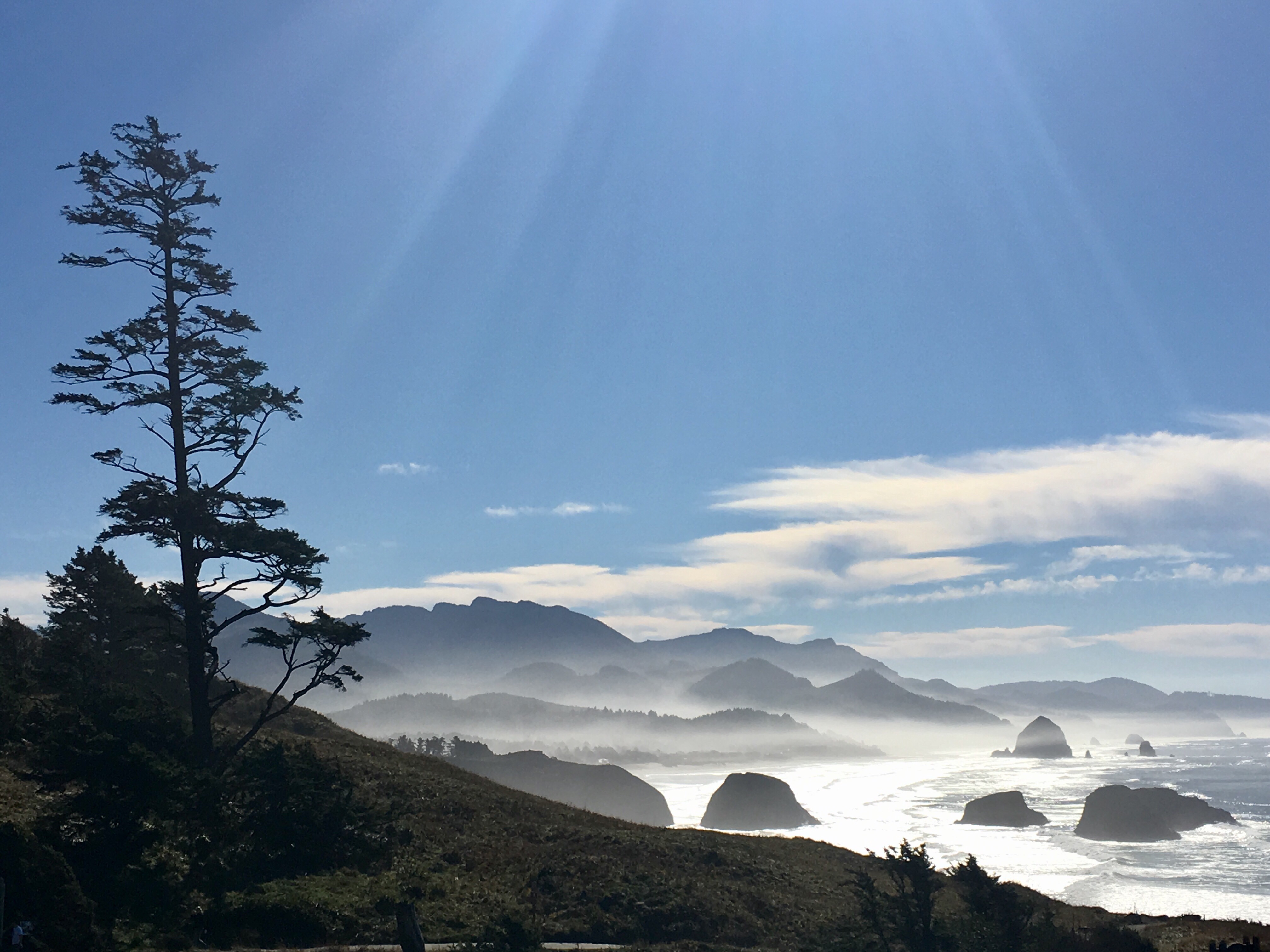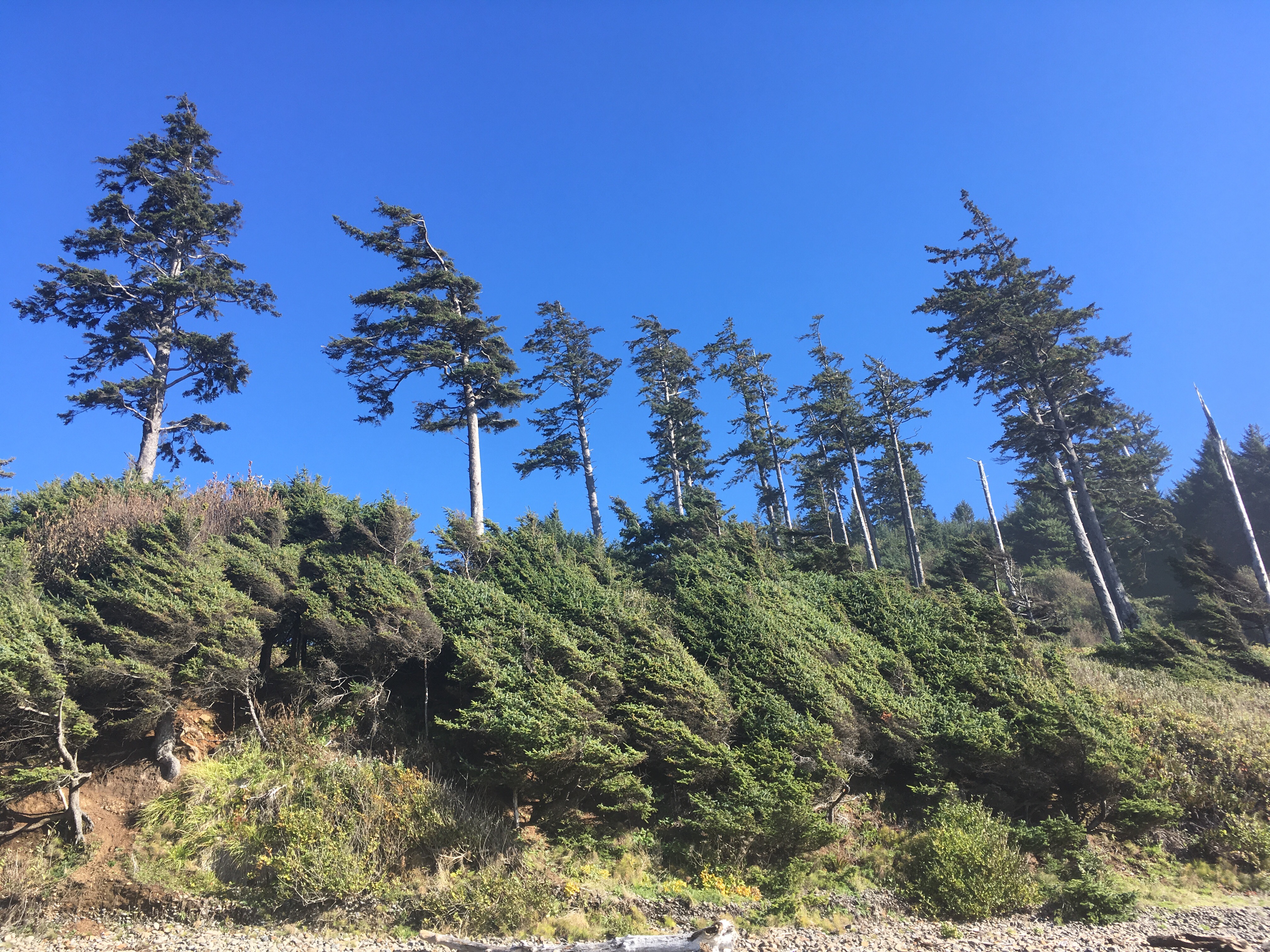 The signs were … Adorable?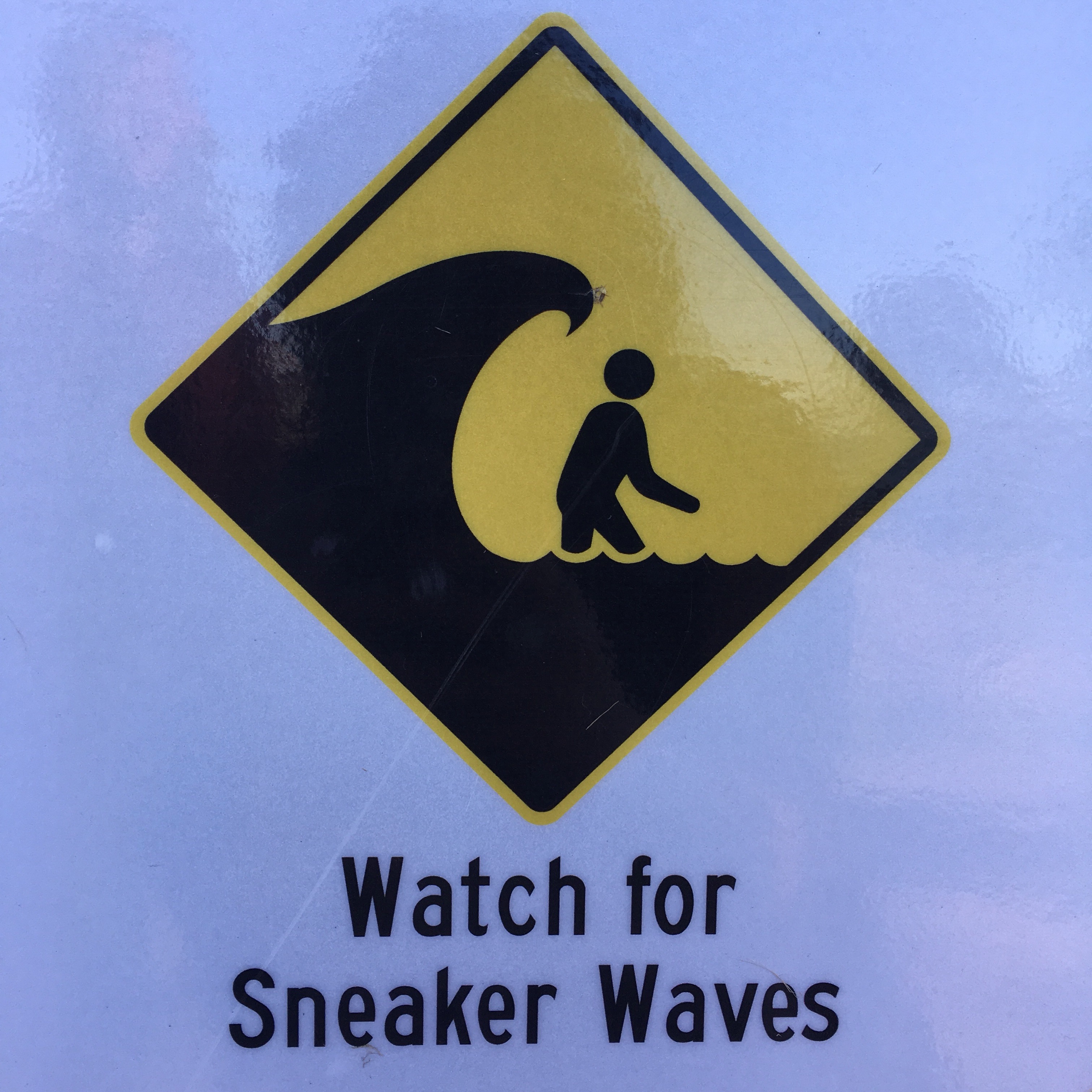 I basically felt like this the whole time.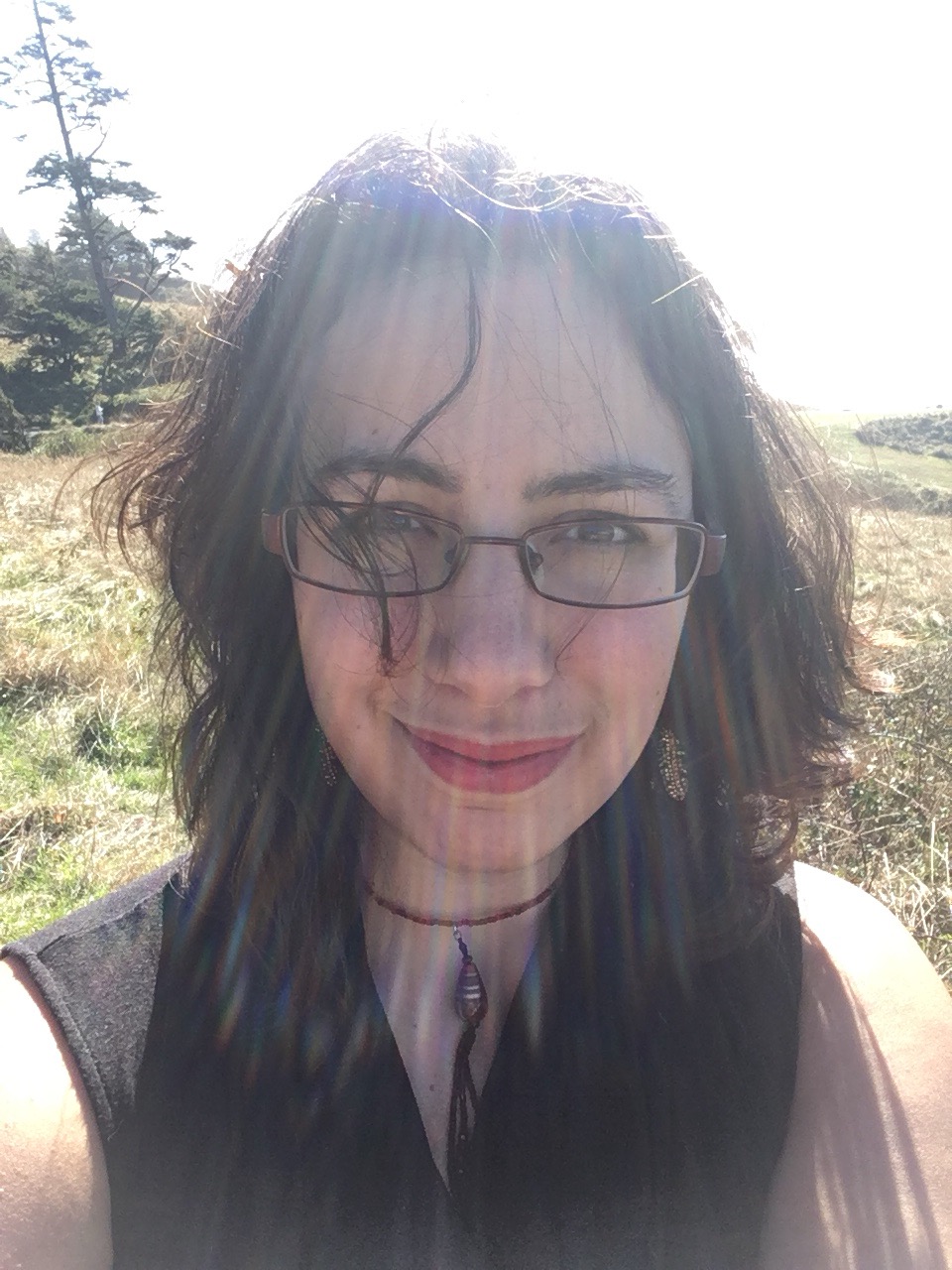 Many, many sealfies were taken. I'll spare you most of them.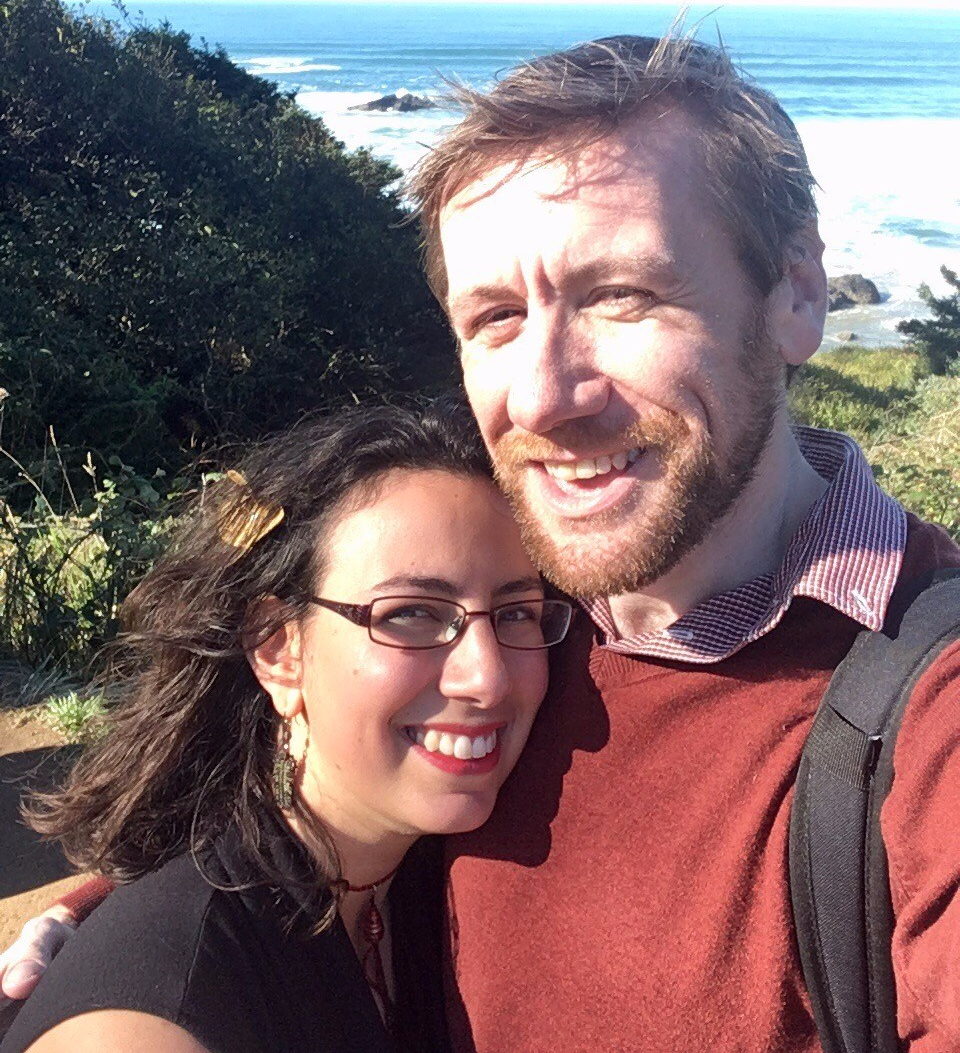 While we flailed and sputtered at the ocean, DongWon was literally working.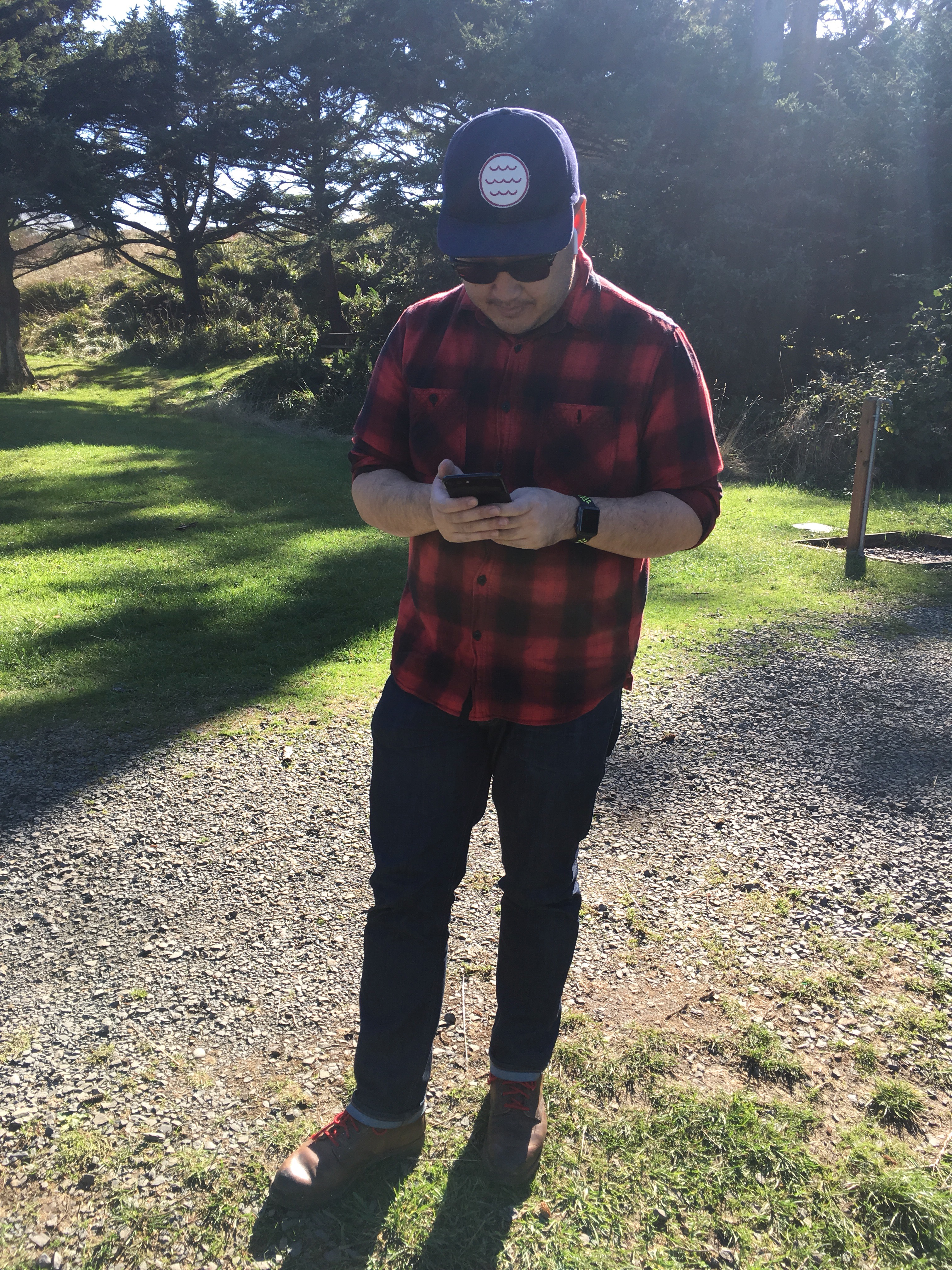 An agent's work is never done. I call this one "Negotiating the Horizon":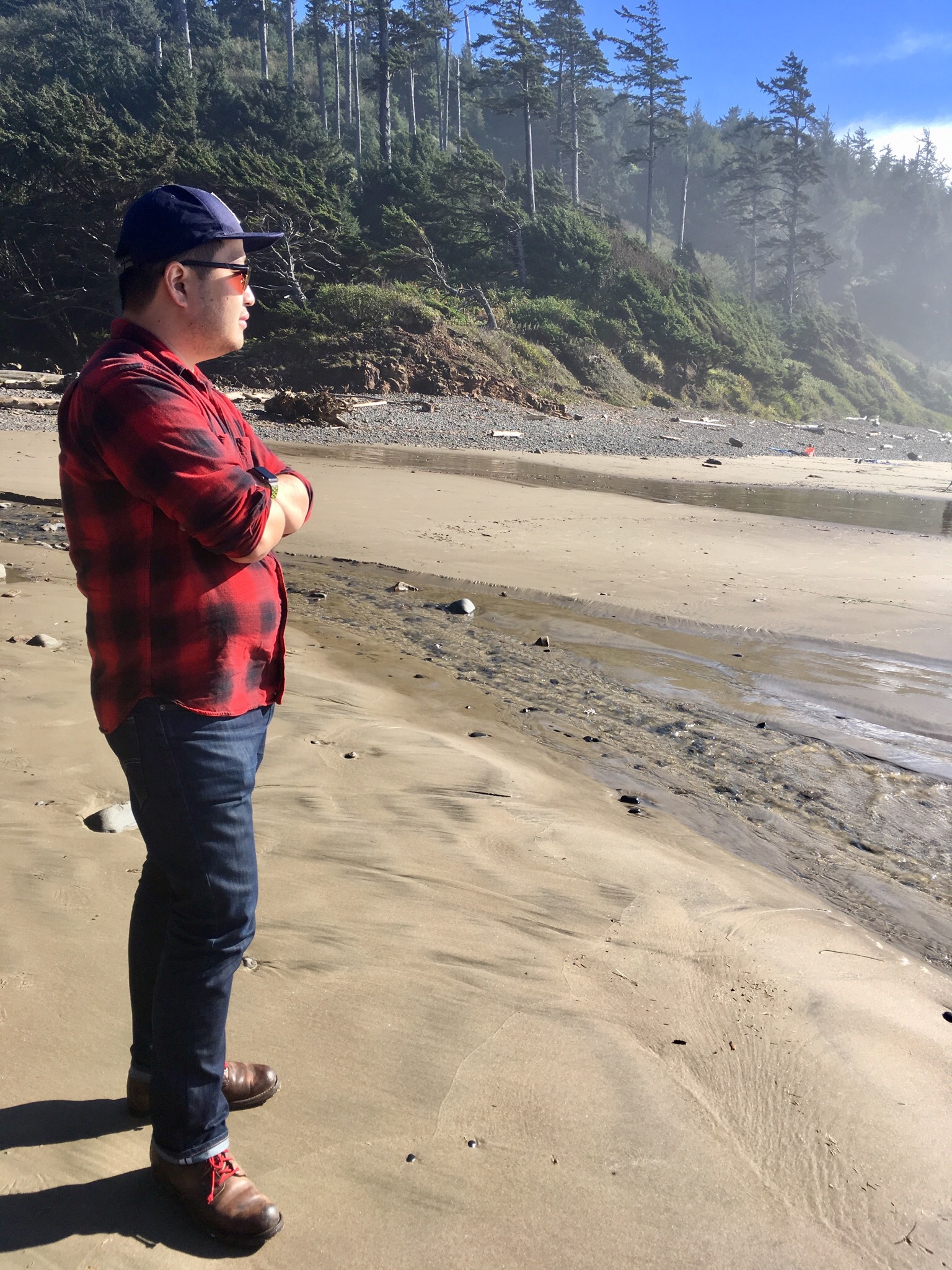 To my abiding delight, we got to have a lovely breakfast with Kelly Sue DeConnick, followed by my first trip to Powell's! Featured: Lidia Yuknavitch's The Misfit's Manifesto, which looks super cool.
I signed every copy of The Starlit Wood in Powell's, heartened by how many there were and in how many sections, and definitely hope to go back sometime.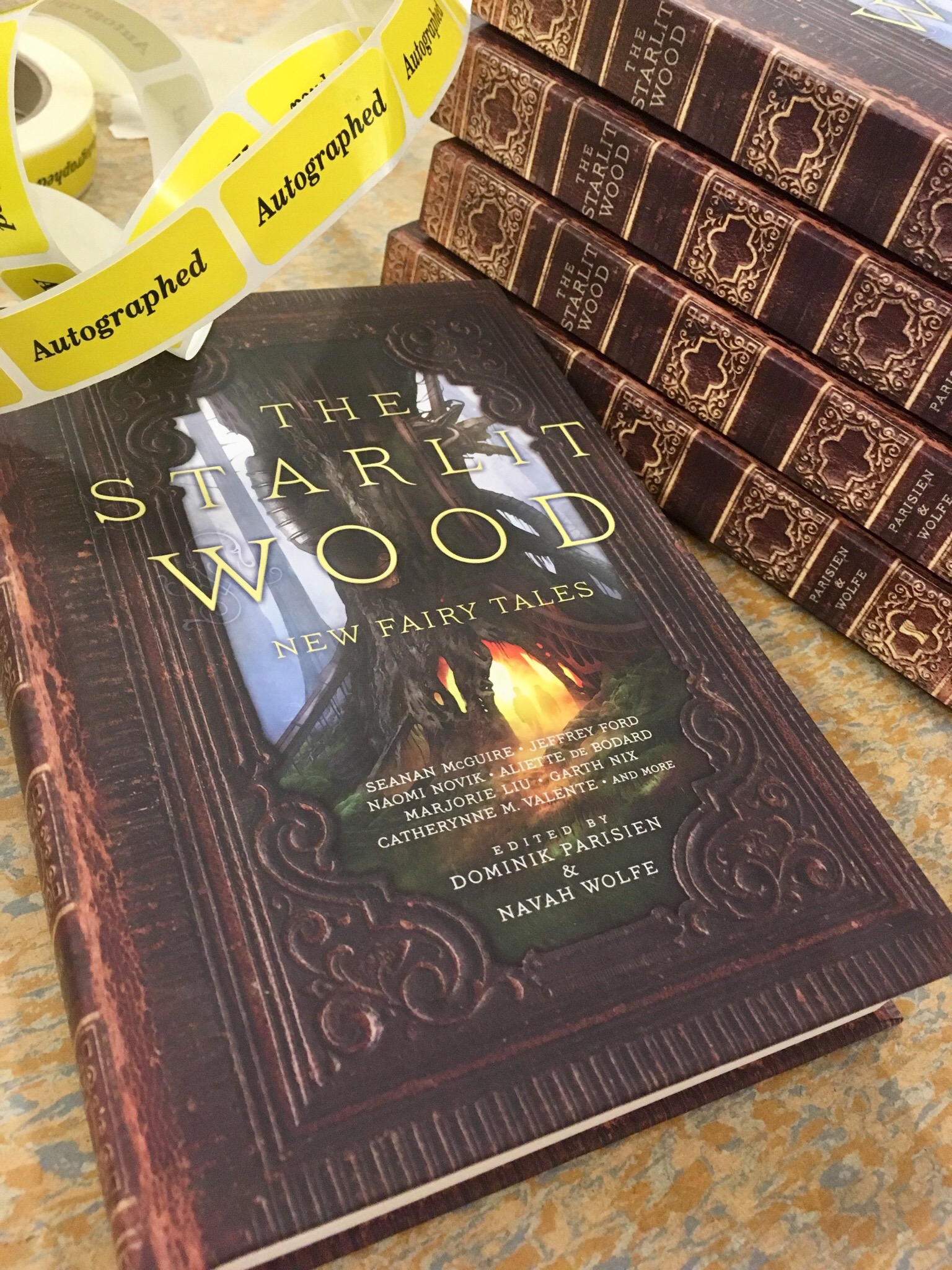 All too soon it was time to go — to take the train back up to Canada and visit with my cousin Rima and family!
We were pretty exhausted by this point, but Stu's parents had insisted that we absolutely had to visit Stanley Park while in the vicinity, so we managed a glancing acquaintance with it.
Rima took me to a very local honey bee centre, where I tasted even more honey, and got to see the workings of a hive up close through slightly smudgy glass.
I held my hand against the glass and feeling how warm it was with the bees' bodies.
And then it was time to go, again — but home this time, looking back over the expanse of a very thorough month. I couldn't stop watching the colours change out the window, light draping over mountains and water like cloth under the moon.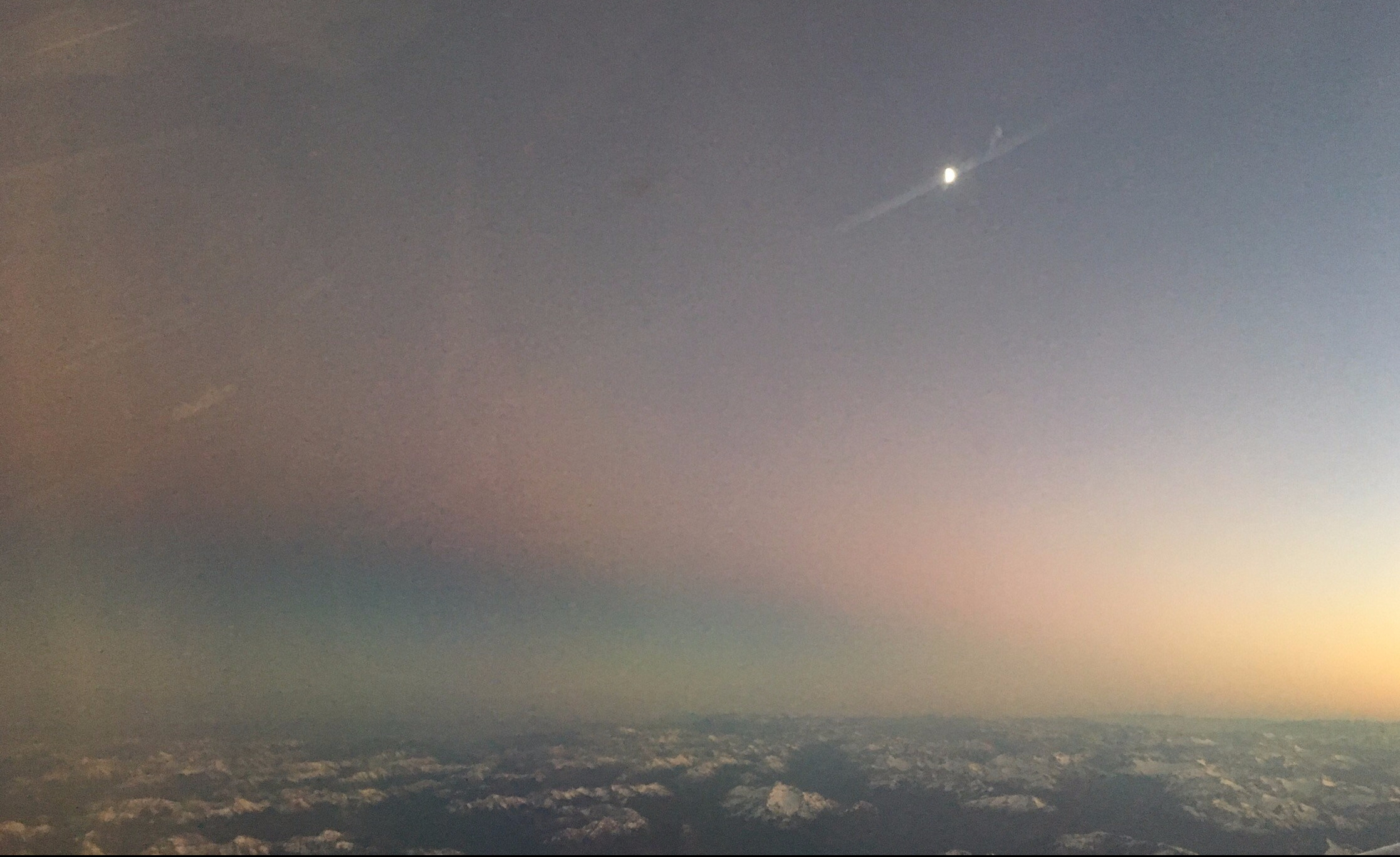 We'd be arriving back in Ottawa around 1:00 AM, and I only had a day or so to recover before being back at work. The jet lag's easing now, I'm beginning to surface up out of email — and look at that. That's most of a month blogged. The highlights, anyway. The highlights I can talk about, anyway! So many good things happened during this whirlwind trip, and I'm excited to share them in the coming weeks.
But by then it'll be November, and that's a whole different month.