Reading Cassandra Khaw for UNCANNY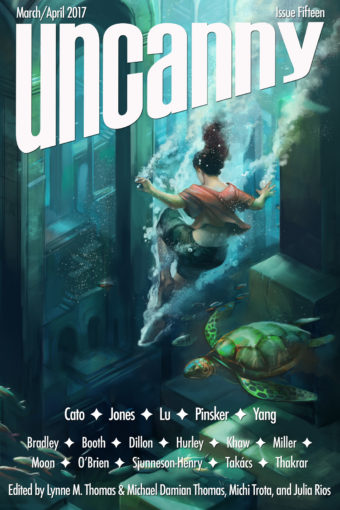 It's no secret that I read poems and stories for Uncanny magazine's monthly podcast. I love doing it, not least because in months heavy with other kinds of work it feels really good to know that I'm guaranteed to read at least one short story or poem, and that short story or poem is going to be absolutely great.
I confess to having my favourites — which overwhelmingly tend to be the pieces that make me work harder as a reader. Cassandra Khaw's "Protestations Against the Idea of Anglicization" is one of those favourites.
It's live today in Issue 15 of Uncanny, along with many other excellent offerings (in particular this essay by Sam J. Miller on Resistance 101). You can listen to me attempt to do it justice here — it starts at 39:07.
Names and the things people call us are as much on my mind as borders lately. Chosen names, names discarded, names on documents, family names, what we accept or reject in a choice, what it means to be forced into the change, how we change ourselves to say that we weren't forced, to say that it was a choice — all this, and more. It's been manifesting in writing in fits and bursts.
All those fits and bursts, oddly enough, are appearing this week, in reverse order of production: this reading, my very short story for Tor.com, and my short story for The Djinn Falls in Love are all appearing this week. They make a sort of whole together.
As good a time as any, I suppose, to spit fire and snow.