ToC Announcement: THE DJINN FALLS IN LOVE & OTHER STORIES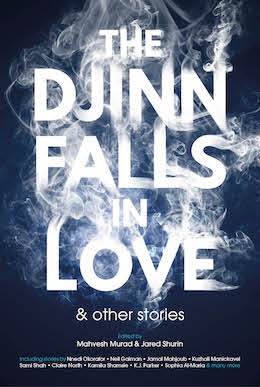 Last week, on Tor.com, Mahvesh Murad and Jared Shurin revealed the cover and Table of Contents for the anthology they're editing for Solaris, due out in March 2017. It looks AMAZING, and I'm profoundly happy to have a story in it. From Tor.com:
Editors Mahvesh Murad and Jared Shurin have teamed up for The Djinn Falls in Love, and Other Stories, bringing together over 20 new and classic tales of Djinn from amazing authors from all around the world. The anthology publishes in March 2017 with Solaris, and we're excited to share the full table of contents—including works from K.J. Parker, Nnedi Okorafor, and Neil Gaiman—below!
Do check out the full ToC, which also includes Kamila Shamsie — of whom I've been in awe since I read this article — Claire North, Maria Dahvahna Headley, Usman T. Malik, J. Y. Yang, and many more fantastic authors.
My own story is called "A Tale of Ash in Seven Birds," and it's part fable, part slantwise recollection of the wizard-djinn battle from  The Thousand and One Nights, and all anger about things I can only speak of sideways.
#SFWApro