Uncanny 14B Podcast: "To Budapest, With Love" by Theodora Goss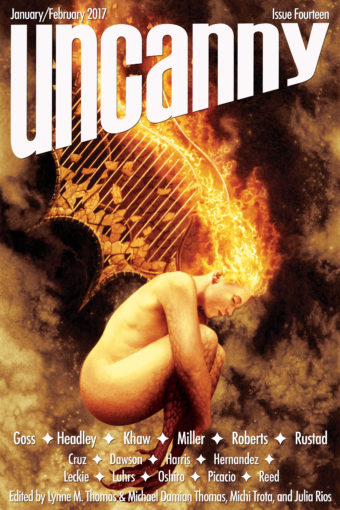 The second half of Uncanny issue 14 is up now, and includes Theodora Goss' "To Budapest, With Love" in among all the other fine, brave offerings.
I single this one out because I read it for the podcast, and it was very hard to do for new-to-me reasons. There was the usual technical side of it — I couldn't have read it without Bogi Takács' generous help with Hungarian pronunciation — but also the emotional side of reading a story about being hyphenated, alienated, that was not my own story but kissing-close to it, reversed, aslant. It was difficult to read such a personal, vulnerable, intimate account without the usual patina of fiction between it and me — it was very hard not to feel like I was usurping Dora's voice as I read some of myself into it.
I hope you'll read it, or listen to it, or both. Any errors in pronouncing the Hungarian (and there are definitely at least 2 obvious ones I couldn't fix) are of course my own.