Uncanny Magazine Podcast Wins a Parsec Award!
What it says on the tin! Last night at DragonCon it was announced that Uncanny's podcast — where I read stories and poems! — won a Parsec Award. I'm thrilled to have contributed to this, and super excited to have one of these trophies! THEY'RE SHAPED LIKE STARS.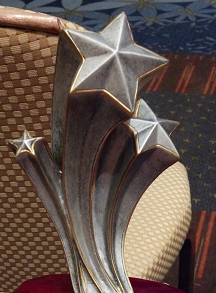 Among the things I'm grateful to Uncanny for is introducing me to Erika Ensign and Steven Schapansky, the podcast's producers, who are basically wizards. I'm always amazed by how cool they make me sound, how kind and patient they are with my absurd schedule, and just how great they are to work with generally. And as a podcast listener (and a one-time interviewee, for "Pockets"!) I'm always delighted to hear Deborah Stanish's fantastic conversations with the magazine's contributors; she's such an insightful interviewer, and her voice is so soothing and smooth!
Big shout-outs, too, to CSE Cooney, Heath Miller, and Max Gladstone, who've all contributed their reading voices to the podcast over the past year and a half. And many thanks, of course, to Lynne, Michael, Michi and Julia, whose editorial work ensures that I always have gorgeous things to read!
In other news, tomorrow's ostensibly the day I return from social media hiatus. I can't believe it's been almost three weeks! But I'm not yet finished the work I intended to have finished! So … I may delay slightly longer. I'm so close to done! So close. Advancing by halves as only Zeno intended. And this weekend is Can-Con here in Ottawa, and I would quite like to have restored tweeting privileges to myself before then.